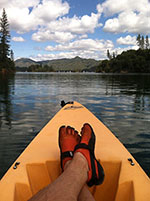 Kayak Program departing from Brandy Creek Beach (2.5 hours)
Daily tours at 9:30 am Monday through Sunday, and 5:30 pm tours are offered on Saturday through Thursday (2 ½ hours), from June 11 through September 5.
Hop on a tandem kayak with a friend and explore the quiet coves around Whiskeytown Lake while you learn more about the natural and cultural values of the park. Children must be at least six years old. Reservations can be made up to two weeks in advance beginning Monday, May 30th. To reserve your spot, call (530) 242-3462, Monday through Friday, between the hours of 9 a.m. to 1 p.m. Click here for rules and requirements.