Ranger-Led Programs
Note: To protect visitors and staff from the COVID-19 pandemic, all interpretive programs and curriculum-based education programs are currently unavailable.

Attending a ranger-led program is a great way for families and friends to learn about the natural and cultural history of Whiskeytown NRA while participating in fun and exciting outdoor activities. From Memorial Day to Labor Day, Whiskeytown NRA's interpretive park rangers lead the following public programs...
See the searchable calendar at the bottom of this page for a schedule of available ranger lead programs.
Reserve your spot on our popular Kayak Tours and Stand-Up Paddleboard Tours up to 2 weeks in advance on Recreation.gov or by calling 1-877-444-6777.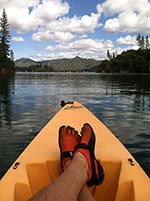 Kayak Tours
Hop on a tandem kayak with a friend and explore the quiet coves around Whiskeytown Lake while you learn about the natural and cultural values of the park. Children must be at least six years old. Reservations can be made up to two weeks in advance for these 2.5-hour tours. To reserve your spot and to review the "Need to Know" information for your tour, go to recreation.gov. Kayak Tours start at Oak Bottom Marina.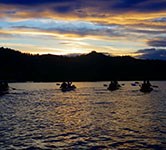 Moonlight Kayak Tours
Experience the dramatic changes in the landscape as you explore Whiskeytown Lake under the light of the moon. Reservations can be made up to two weeks in advance. To reserve your spot, and to review the "Need to Know" information, go to recreation.gov. These programs last around 2.5 hours. Starting location is Oak Bottom Marina.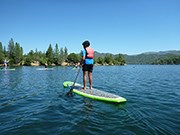 Stand-Up Paddleboard Tours
Join Whiskeytown rangers at beautiful Brandy Creek Beach to learn a new skill and experience the lake from a fresh perspective. Designed as an introduction to the trendy new sport of SUP, or stand-up paddleboard, this one and-a-half hour, free program will introduce the basics while encouraging healthy activity on Whiskeytown Lake. Paddleboards, paddles, and life jackets will be provided. Children must be at least 10 years old and must be accompanied by an adult. Reservations can be made up to two weeks in advance. To reserve your spot, and to review the "Need to Know" information for your tour go to
recreation.gov
.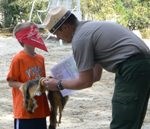 Junior Rangers
Calling all kids and families: join a ranger and learn about some special natural and cultural features of the park. This informal, interactive program is specifically geared to children ages six to 12. Afterwards, be sure and have your child grab a Whiskeytown NRA Junior Ranger book. They can complete the activities in the booklet and then get an official badge.

If you are looking to do some Junior Ranger activities from home follow this link for Junior Rangers Online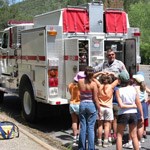 Junior Firefighters
Children and families are invited to join National Park Service (NPS) firefighters to learn how they manage fire to promote forest health and protect lives and property. Visitors will learn about the important role that fire plays in the ecosystems of our national parks during this hands-on activity. Youngsters who complete the program will earn a Junior Firefighter Badge. Meet at the NPS Fire Station located next to the Oak Bottom Campground Store. The program is primarily geared for ages six to 12.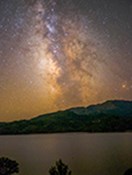 Star Party
Experience the splendor of the dark night sky. Because of its unique position nestled within mountain ranges and miles from urban light pollution, Whiskeytown is a great place to explore the heavens. Whiskeytown visitors are able to see deep into space aided by powerful telescopes provided by the passionate and knowledgeable volunteers of the Shasta Astronomy Club. Star Parties are held at the Oak Bottom Marina parking lot. As a courtesy, please dim your headlights on arrival if it is safe to do so.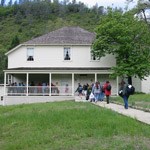 History Hike
Discover how pioneers/prospectors Charles Camden and Levi Tower reshaped the landscape to create a home for their families and an "oasis" for many travelers during and after the California Gold Rush. After a tour of the Camden house, built in 1852, enjoy a leisurely stroll through the area, then try your hand at finding gold the old-fashioned way-with a gold pan in the creek! Please bring a bottle of water and extra clothing if you choose to get wet.
---
Search Filters
By Park
By State/Territory
By Event Type

Last updated: July 28, 2020