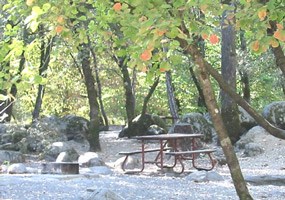 Picnic Areas
Visit Whiskeytown's beautiful shaded picnic areas with tables, fire grills and restrooms located at Brandy Creek, Oak Bottom and at the Whiskey Creek boat launch area. Large groups can reserve Whiskey Creek Group Picnic Area located directly across the lake from the Whiskey Creek boat launch ramp.
There is a picnic site at Crystal Creek Falls which has 2 sites. This site offers a beautiful view of Crystal Creek falls. The site is located on Crystal Creek Road approximately 2 miles south off Highway 299.
Handicap accessible picnic sites, fishing piers and beach access are located at Oak Bottom and Brandy Creek. Whiskey Creek also has an accessible fishing pier.
Do not feed wildlife - it is against the law and may result in a citation. Do not leave food unattended, store out of sight in a secured vehicle.