Accessibility
The visitor center, park headquarters, and park restrooms are accessible, along with parts of some trails. Stop by the visitor center for more information, or click here for a printable handout on accessible facilities in the park.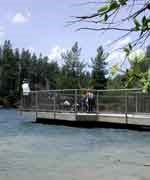 The park also features two new handicapped accessible fishing piers at Whiskey Creek and Oak Bottom. These facilities are open year-round.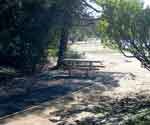 In addition, two handicapped accessible picnic sites are available at Oak Bottom and Brandy Creek beaches, with boardwalk access pathways leading into the water. The picnic sites are open year-round, but with lowered water levels, the boardwalks to the water are not available.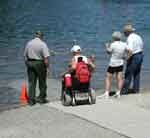 Last updated: July 18, 2012