Fire at Whiskeytown
The goals of the Fire Management Program at Whiskeytown is to protect people, property and resources from large, high-intensity wildfires; to reduce the build-up of forest fuels; and to bring fire back into the ecosystem. The Fire Program at Whiskeytown uses many different tools to accomplish these goals...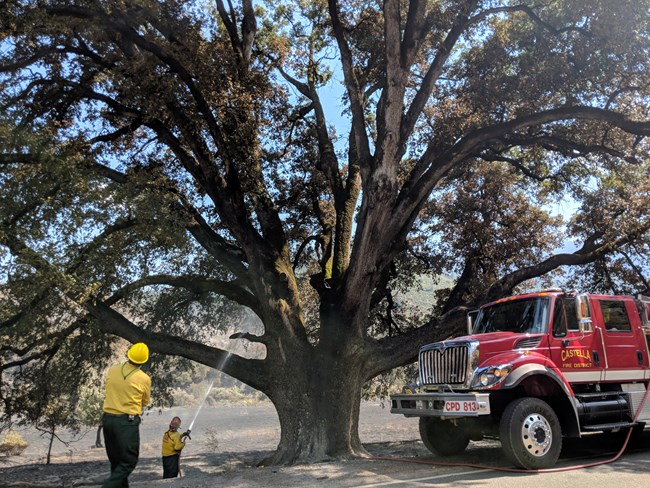 Suppression
All unplanned fires at Whiskeytown are put out as quickly as possible. Whiskeytown fire staff work closely with interagency partners like Cal Fire, the United States Forest Service, Shasta County and the City of Redding to fight fire aggressively while protecting property and keeping the public and firefighters safe.

Whiskeytown Not-So-Fun Fact: every year, park firefighters put out several fires that were accidentally started by visitors. Since 2021, fires in the park have been started by fireworks (the use of fireworks is illegal in the park), campfires not being drowned out with water, campfires being left unattended, and by vehicle accidents on Highway 299.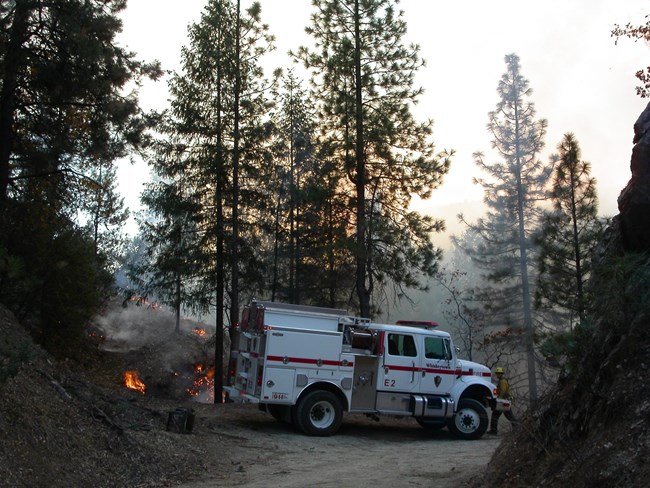 Prescribed Fire
Prescribed fire is used to ignite low intensity fires when weather conditions are right. The goal of prescribed fire is to reduce hazardous fuel build-up while safely reintroducing fire to the ecosystem. The indigenous people of this area, known collectively as the Wintu, conducted prescribed fire for hundreds of years prior to the 1900s.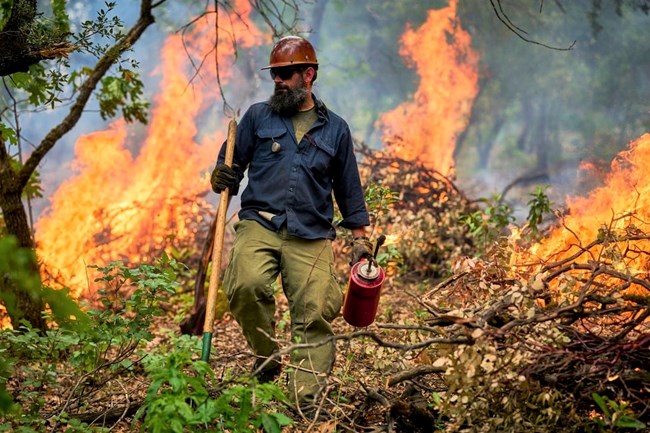 Mechanical Treatments
A variety of tools and equipment are used to reduce forest fuels in the park. They include the use of chain saws, weed eaters, hand crews, and chippers to maintain defensible space around buildings, create and maintain shaded fuelbreaks, and to clear along roadways. Small trees and brush are cut, piled, chipped and burned during appropriate times. From approximately November to May each year, watch for this work occuring throughout the park - it's a never ending task to keep fuels low, even after the Carr Fire of 2018.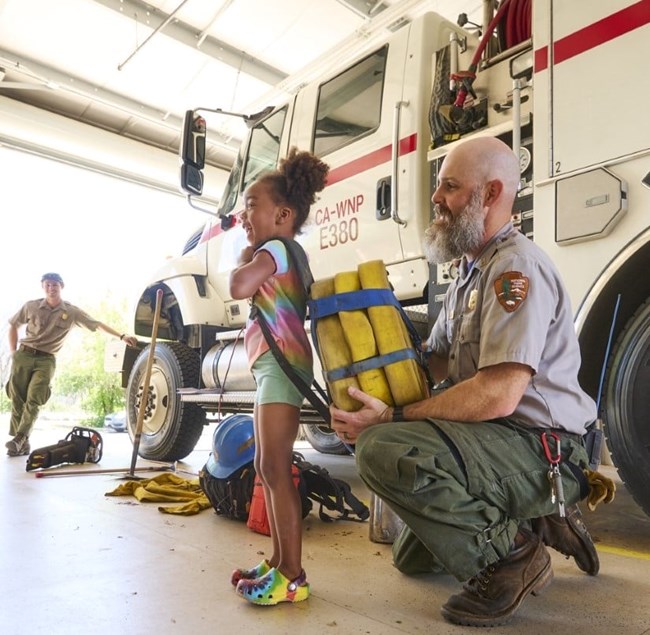 Fire Education
Fire staff work to educate park visitors, employees, agency partners and neighbors about wildland fire and fire management policy at Whiskeytown.
During summer, children and their families can learn about firefighters and fire at Whiskeytown by attending the Junior Firefighter program at the Oak Bottom Fire Station at 10am on Saturdays. This hands-on program enables kids to touch, see, and even try on firefighting equipment.

Whiskeytown also has a Junior Firefighter Activity Book. This booklet can be picked up at the Visitor Center and children can complete the booklet and then turn it back in to receive a special badge.

For questions about Whiskeytown's fire management policy, to schedule a fire ecology or climate change education program for your school group, or for other fire questions and inquiries, email Greg Williams, Interpretive Park Ranger, at Paul_G_Williams@nps.gov.
Last updated: December 14, 2022