For Teachers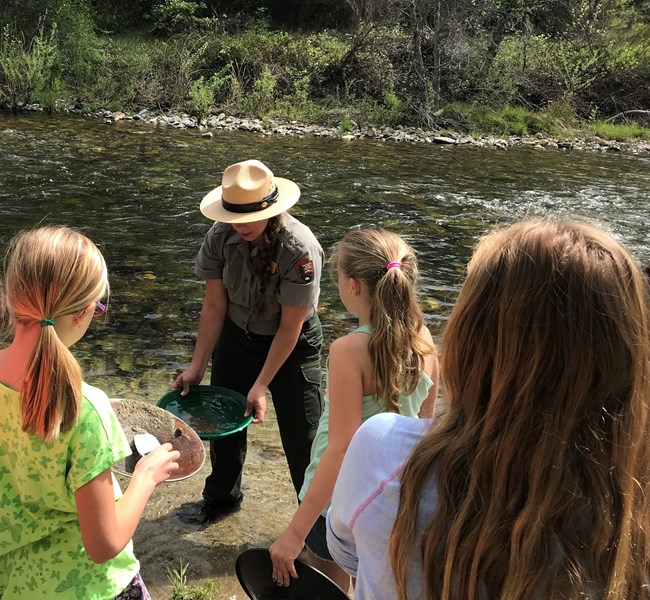 Calling all Educators: enhance your students' education with a free visit to the ultimate classroom - Whiskeytown National Recreation Area!!! The park currently offers a curriculum-based California Gold Rush program for 4th grade classrooms and a Wintu of Whiskeytown curriculum-based program for 3rd graders (these two field trip programs can be adapted to other grades as well). In addition to these two field trip programs, the park offers several virtual education programs that focus on park geology, fire ecology, endemic species, and more. Learn more below or schedule an education program by emailing us at WHIS_Information@nps.gov.

Academic Entrance Fee Wavier
Groups from bona fide educational institutions are eligible for an entrance fee waiver if they are coming to study park resources. Requests should be sent at least 2 weeks in advance of visit using the form below.
Application for Academic Fee Waiver

FIELD TRIP PROGRAMS...
The Wintu of Whiskeytown
3rd Grade, 1.5 hours, Tower House Historic District
How can learning about local Wintu traditions, Wintu geography, and current livelihood of the Wintu change the relationship students have with their land as well as their perspectives on indigenous cultures? During this three rotation lesson, students will be able to analyze geographic patterns of settlement, provide information on traditional plant uses (ethnobotany), and compare/contrast indigenous fire practices with fire practices of today. This program was developed in consultation with Redding Rancheria.
California Gold Rush
4th Grade, 2 hours, Tower House Historic District
During this field trip, students discover how pioneers/prospectors Charles Camden and Levi Tower reshaped the landscape to create a home for their families and an "oasis" for many travelers during and after the California Gold Rush. After exploring the Tower House Historic District, students will try their hands at gold panning. This field trip program also includes booklets that students complete during their time in the park.
VIRTUAL PROGRAMS
Any Grade Level, 45 minutes
The park's virtual programs take place online. To schedule a program, email WHIS_Information@nps.gov.
Why is Whiskeytown on Fire?

In recent history, Whiskeytown National Recreation Area has experienced a large variety of wildfires - some small, some human caused, many natural and one being the most devastating in the history of the National Park System. Understanding the park's fire ecology and fire regimes is an important field to study due to its impacts on the environment and public safety. As our climate changes it is important to understand the normal impacts of wildfire in order to predict potential future changes. This is especially important due to our proximity to suburban areas. Join a park ranger and study the fire ecology of Whiskeytown and look into the natural fire regimes, the benefits of fire and how an altering climate is influencing changes in recent and future wildland fire.

Whiskeytown Rocks!

Whiskeytown National Recreation Area has unique geologic formations that have been described as "a mess" by our own geologist! Shasta Bally, our tallest mountain, is made of decomposed granite that creates a special set of hazards, especially when combined with the devastating effects of the 2018 Carr fire. Come investigate what sets our local geology apart and the hazards it has created; learn why we should study the landscape around us.

Adapt or Survive: Howell's Alkali Grass

Howell's Alkali Grass, Puccinella Howellii, is an amazing survivor due to the adaptations it has developed to live in harsh conditions like rough terrain and bad water. This grass was only identified as a unique species in 1990! This plant is also an endemic species and lives nowhere else on earth. Together we will explore Howell's Alkali Grass and learn what makes it so incredible. We will discover plant adaptations and gain insight as to why all species are important and need to be protected.

Whiskeytown and the Northern Diggins

Upon the discovery of gold along Clear Creek, Shasta County and current day Whiskeytown National Recreation Area quickly became a hot spot for 49ers searching for gold. Whiskeytown saw it all, from gold panning and miners from all over the world to classic hardrock mining and boom towns. Within the present-day national recreation area there are dozens of known mineshafts and adits that shed light onto the extensive history of mining here. Together, we will explore the history of mining, learn how it happened, who the miners were and if the search for gold ever stopped.

The Wintu of Whiskeytown

Adapted from the field trip program of the same name, this program focuses on the indigenous heritage of Whiskeytown National Recreation Area. Participants will learn about Wintu geography and settlement patterns, Wintu use of native plants (ethnobotany), and indigenous use of fire to maintain and enhance the land. The program is aligned with 3rd grade curriculum standards but can be adapted to older grades. Thank you to Laken Bose, Whiskeytown's 2021 Teacher Ranger Teacher, for developing this program. The program was also developed in consultation with Redding Rancheria.

Fisher Fundamentals

Whiskeytown National Recreation Area is home to many fascinating species, among them the Fisher. This weasel-like animal was historically found throughout the western United States but was nearly hunted to extinction. Together we will discover what makes fishers so unique, why they were hunted, how they are surviving today and what Whiskeytown employees are doing to help.

A Climate of Change at Whiskeytown

Climate change is a touchy, controversial subject. It's also an important subject. How is the rise in carbon dioxide emissions affecting the national recreation area? How is the rise in carbon dioxide emissions even occurring? What is Whiskeytown doing about it? What can you do about it? This virtual, curriculum-based program is geared for grades 4th to 8th but can be adapted up or down.

Last updated: October 4, 2023