Education
School Group Programs
Enhance your students' education with a visit to the ultimate classroom, Whiskeytown National Recreation Area. The park has a variety of ranger led programs focusing on science and California History that make classroom lessons come alive.

Whiskeytown offers a variety of ranger led programs for schools in multiple areas including: Redding, Weaverville, Hayfork, Shasta Lake City, Anderson, Cottonwood and more! If your school isn't listed here please call (530) 242-3450 for more information.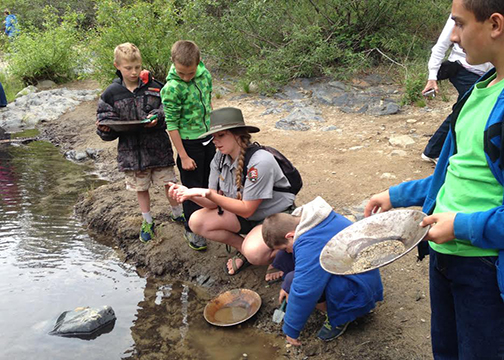 Gold Rush
Discover how pioneers/prospectors Charles Camden and Levi Tower reshaped the landscape to create a home for their families and an "oasis" for many travelers during and after the California Gold Rush. After a tour of the Camden house, discover the El Dorado Mine and then try your hand at finding gold the old-fashioned way, using a gold pan in the creek!
Click Here to download an activity booklet for students
Click Here to download the teacher's edition
Ranger led hikes
Discover the many wonders of Whiskeytown through exploring one of the many trails we have here. Choose from one of our four waterfalls: Brandy Creek Falls, Boulder Creek Falls, Whiskeytown Falls or Crystal Creek Falls. Each trail holds something unique, whether it is a cluster of California Sisters (Adelpha californica) butterflies, historical debris flows or spotting a Black bear (Ursus americanus) - we have something to offer to all age ranges.
Don't just experience one, experience them all by taking the Whiskeytown Waterfall Challenge Waterfall Challenge Passport.
Don't have time to come out to Whiskeytown? Have a ranger come to YOUR classroom!
Whiskeytown rangers are passionate about sharing nature and what the National Park Service has to offer. Call the number below and have a ranger come visit your classroom.
For more information call Ranger Matt Switzer at (530) 242-3454 or email at matthew_switzer@nps.gov.
Directions and Parking Information
Wondering how to get to Whiskeytown? Download a map of the Northstate by clicking here.
The National Park Service regulations allow school groups and other bona fide academic institutions to obtain a waiver for park entance fees, provided that the visit is for educational and scientific purposes, and the resources or facilities the group proposes to use support those purposes. Click Here to download the Academic Fee Waiver application.