For Teachers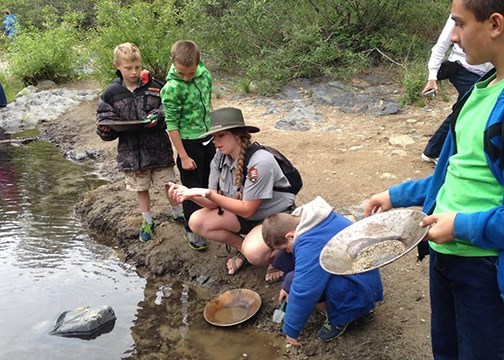 Calling all educators: enhance your students' education with a visit to the ultimate classroom, Whiskeytown National Recreation Area. In addition to the park's California Gold Rush (and gold panning) program, rangers can potentially cater a program to your specific needs. To discuss an in-person or virtual field trip to the park, or to request a ranger in your classroom, email scott_einberger@nps.gov.

California Gold Rush Program
During this field trip, students discover how pioneers/prospectors Charles Camden and Levi Tower reshaped the landscape to create a home for their families and an "oasis" for many travelers during and after the California Gold Rush. After exploring the Tower House Historic District, students will try their hands at gold panning.
Student Activity Book
Teacher's Version

Ranger-led Hikes
Ecology. Fire. Biology. History. Physical Fitness. Art. Park rangers can potentially cater a guided hike to your classroom's specific needs.

Classroom and Virtual Visits
Yes! Contact us and we'll try and work something out.

Becuase the Best Cost is No Cost
The National Park Service regulations allow school groups and other bonafide academic institutions to obtain a waiver for park entance fees, provided that the visit is for educational and scientific purposes, and the resources or facilities the group proposes to use support those purposes. Click Here for more information on Academic Fee Waivers.

Last updated: September 29, 2020