Weir Farm National Historic Site Celebrates Centennial Successes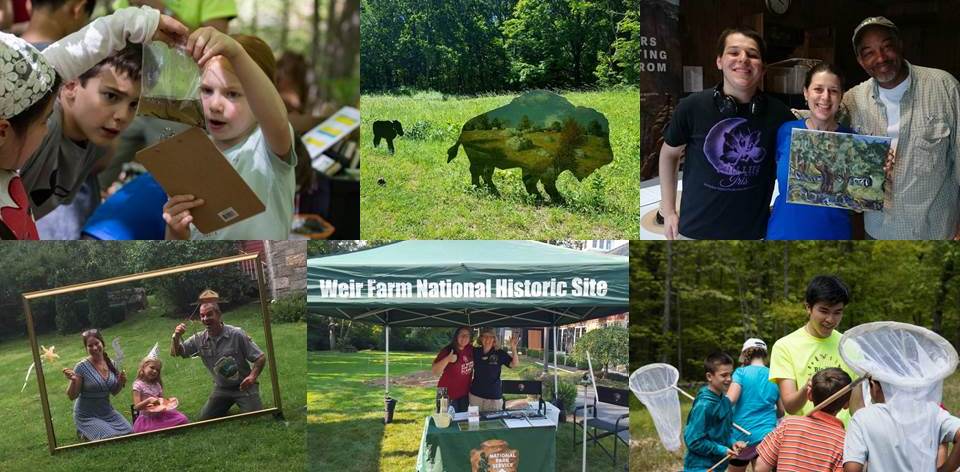 News Release Date:
February 3, 2017 WILTON/RIDGEFIELD -- As the National Park Service embarks on its second century of service, Weir Farm National Historic Site is celebrating the significant accomplishments of its centennial celebration and engagement with the
Find Your Park
/
Encuentra Tu Parque
initiative, and is planning ahead for visitors in 2017.  
Weir Farm National Historic Site programs helped thousands of visitors, students, and residents find their way to the only park in the country dedicated to Impressionist art as well as local historic sites, trails, and communities in 2016. Some highlights include:  
Every Kid in a Park — www.everykidinapark.gov — Nearly 400 local fourth grade students explored the meadows, pond and woodlands to observe everything from salamanders, frogs, butterflies and plants to birds of prey as part of a national Bio Blitz on May 20th. Local partners including the Ridgefield Conservation Commission, the Woodcock Nature Center, Weir Preserve, and Friends of Weir Farm collaborated to highlight the importance of local biodiversity. The park also worked with Fire Island National Seashore in New York to engage 4th graders in art programming at both parks through an artist-led expedition and workshop series. The Every Kid in a Park program, where fourth graders are provided educational opportunities and receive free passes for their families to every national park in the country, will continue in 2017.
Find Your Park — www.findyourpark.com —With support from partners, Weir Farm National Historic Site hosted 10 special events at the park, as well as reached new audiences in their communities. For example, the park participated in the Philadelphia Flower Show and several local festivals like Ridgefield Summerfest; and the NPS IMAX Film was featured at the Norwalk Aquarium. The park will continue to provide fun programs and participate in community events, helping people find their park into 2017 and beyond.
A Place for Art — www.nps.gov/wefa — What a year for art! Four stunning paintings were loaned by a Weir family member and on display in the Weir House during the 2016 season. The Weir Farm Art Center managed a stellar group of Artists-in-Residents and donated two Weir paintings, "Anna and Gippy" and "The Hunter" to the park. The exhibit, "A Good Summer's Work" at the Lyman Allen Museum focused on paintings created in eastern Connecticut by Weir and others in his circle. The park also added night painting to the wildly popular Impressionist Painting Workshop series led by master instructor Dmitri Wright, engaging artists from sunset to moonlight.
Centennial Art Bison — One of the most exciting centennial happenings for the park was the installation of seven life-size artistic bison cutouts. Clad in paintings by artists J. Alden Weir, Mahonri Young and Sperry Andrews, the Art Bison depicted historic painting sites throughout the landscape and captured the imagination of thousands of visitors, including students and Junior Rangers who participated in the Find Your Bison activity.
Economic Impact — www.nps.gov/wefa — Based on the national average, Weir Farm National Historic Site generates about $10.00 locally for every federal dollar spent. This comes to about $10 million in economic impact benefitting local businesses, nonprofits, and towns, which is augmented by volunteers' efforts and local community events. The park is a draw to discover great places, regional arts, food and fun experiences in southwestern Connecticut, the Upper Housatonic Valley National Heritage Area, the Connecticut Art Trail, and the National Trust's Historic Artists Homes and Studios in New England.
"2016 was a fabulous year for the NPS and for Weir Farm National Historic Site. Thousands of visitors, partners, and volunteers celebrated with us, and our programs resulted in a significant level of public interest and community engagement," said Superintendent Linda Cook. "All of the great programs that were initiated at the park during the NPS Centennial will continue in 2017. We look forward to providing opportunities for people to explore their creativity, get outdoors, connect with the artistic legacy of Weir Farm, have fun, and find their park here at Weir Farm National Historic Site."  
More information about the success and long term legacy of the NPS Centennial is available online here:
https://www.nps.gov/subjects/centennial/success.htm
.  
About Weir Farm National Historic Site
Designed and preserved by artists, Weir Farm National Historic Site welcomes everyone to experience the power of creativity, art, and nature. Explore the only national park dedicated to American painting and rediscover the beauty of light and color in everyday life. Learn more at
www.nps.gov/wefa
 and visit us on Facebook 
www.facebook.com/WeirFarmNHS
, YouTube
www.youtube.com/WeirFarmNHS
, and Instagram @WeirFarmNHS.  
About the National Park Service
More than 20,000 National Park Service employees care for America's 417 national parks and work with communities across the nation to help preserve local history and create close-to-home recreational opportunities. Visit us at
www.nps.gov
, on Facebook at
www.facebook.com/nationalparkservice
, Twitter  
www.twitter.com/natlparkservice
, and YouTube  
www.youtube.com/nationalparkservice
.  
Last updated: February 3, 2017