Air Quality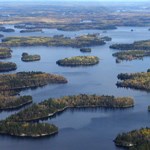 Most people who visit national parks expect clean air and clear views. Given its remote location on the northern edge of Minnesota's border with Canada, Voyageurs National Park (NP) experiences relatively good air quality. However, the park lies downwind of pollution from sources in the Midwest and Canada, as well as nearby industrial sources like paper mills. Airborne pollutants can harm the park's natural and scenic resources such as wildlife, vegetation, surface waters, and visibility.
For more information about Air Quality at Voyageurs National Park visit our Park Air Profile.

For near real-time weather and ozone data visit our Ash River Air Quality monitoring station site.
Last updated: February 28, 2019