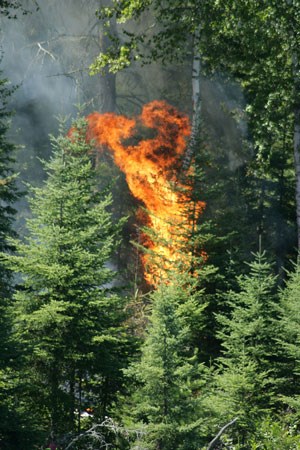 Fire is a natural disturbance that has played a major role in the health and diversity of the park as well as shaping the landscape. The ecosystem of Voyageurs depends on fire to return the area to earlier successional stages, provide a variety of food sources and habitat for wildlife, increase forest and vegetation productivity, and reduce disease and insect infestation. Fire is also essential for the presence of certain ecosystems, in particular, pine forests.
Wildland fires burn when environmental conditions, such as high temperatures, low relative humidity and low fuel moistures, are present and there is an ignition from either lightning or human.
Suppression of wildfires in the last century has led to a high accumulation of fuels and a subsequent increase in the risk of extreme fire behavior. Since the time when the voyageurs encountered these lands, forest communities that adapted to fire, such as jack pine, red pine, and white pine forests, have decreased, while other communities, such as spruce/fir/aspen, which persist without fire, have increased. Though high intensity fires are common and necessary in some ecosystems, they are not beneficial to others systems, and can pose a threat to lives and property. Fire managers at the park seek to strike a balance between restoring and maintaining natural processes associated with fire and protecting human life and property.