Things To Do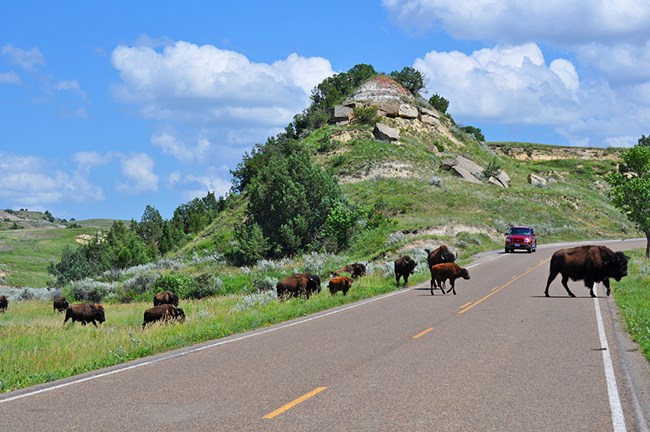 Scenic Drives
The
South Unit
's scenic drive is a
48 mile scenic drive
beginning and ending in Medora, ND. Driving alone takes
2 hours.
Allow additional time for whatever activities you do or stops you make along the way. The entire loop lies within the Little Missouri Badlands.
The
North Unit
's
28 mile scenic drive
takes roughly
1 hour 15 minutes
to compete without stops (roundtrip, out-and-back). The road rolls across the badlands and then climbs up to the historic River Bend Overlook. From there, it traces the rim of the prairie with sweeping badlands views all the way to the end of the road at Oxbow Overlook.
While badlands scenery is the main attraction, there's so much more to do and see along these roads. Scenic overlooks feature exhibits highlighting features on the landscape, history, and habitats.
Hiking trails
of varying lengths depart from trailheads along the roads. Scenic drives usually yield the best
wildlife viewing
opportunities - travelers cover more ground by road than on foot and enclosed vehicles offer safe, up-close encounters not otherwise possible.


Last updated: February 26, 2021