Dakota Nights Astronomy Festival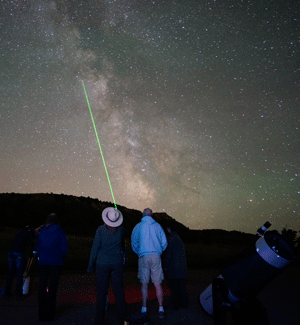 August 30 through September 1, 2019
Join astronomers, rangers, and historians as they come together for a three-day festival celebrating North Dakota's starry nights and rich heritage! Stand under the expansive night sky that influenced cultures of American Indian tribes, inspired modern space exploration, and is still yours to experience today!
Theodore Roosevelt National Park and Historic Medora welcome you to evenings of star viewing,special presentations, rocket building and launching, children's activities, and much more as we celebrate Dakota Nights!
Most activities are included with your park entry fee, except when otherwise noted.
Daytime Activities - Saturday & Sunday
People of all ages are welcome at all activities!
Discovery Dome in the South Unit Visitor Center Theater
Immerse yourself in films about outer space, planets, stars, and black holes!

9:00 am - Secret of the Cardboard Rocket (40 min)
10:00 am - One World, One Sky: Big Bird's Big Adventure (27 min)
11:00 am - Amazing Astronomers of Antiquity (20 min)
12:00 pm - Seasonal Stargazing (14 min)
1:00 pm - Eclipses & Lunar Eclipses (16 min)
2:00 pm - We Choose Space (25 min)
3:00 pm - Birth of the Solar System (25 min)
4:00 pm - X-Planets: Discovering Other Earths (25 min)

Kids' Crafts and Activities at the Ferris Store Lawn in Medora from 9:00 am to 12:00 pm.
Take part in FREE hands-on activities that help kids learn about astronomy and unleash their creativity.

Rocket Building and Launching at Chimney Park in Medora from 1:00 pm to 4:00 pm.
Build, paint, and launch a rocket! Rocket kits are $10.

Solar Viewing at the Ferris Store Lawn in Medora from 1:00 pm to 4:00 pm.
Have you ever seen a sunspot? Safely view the sun (and its spots!) through telescopes and by other means.

Solar System Hikes at the Ferris Store Lawn in Medora from 1:00 pm to 4:00 pm.
Start at the Sun and hike your way to Neptune. (Sorry, Pluto!) Learn about the planets in our solar system as you walk. Distance: 0.5 mile Difficulty: Easy

Understanding the Solar System with Brad Nasset at the De Mores Memorial Park in Medora from 11:00 am to 12:00 pm.
Ever wonder how to find our planets in the night sky? Using models, learn how orbits of planets determine when and where to view them.
Featured Presentations
Cottonwood Campground Amphitheater from 7:00 pm to 8:00 pm.
Each night of the festival, a guest speaker offers their unique take on the night sky.

Friday: "Preserving our Night Sky" with William Wren
Bill Wren of McDonald Observatory is a supernova researcher, helped design, build and operate a number of unique telescopes, and now leads the effort to protect the Observatory's dark night skies.

Saturday: "Cosmic History of ND Badlands" with Dr. Matt Craig
The story of the badlands and the stars above are intimately connected.

Sunday: "Finding Constellations" with Brad Nasset
Discover the rhythm of our night sky and how to unlock the secrets of finding the constellations.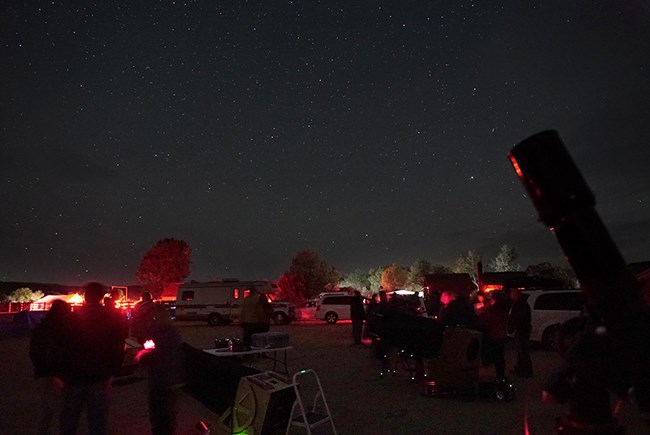 Stargazing and Telescopes
Friday, Saturday & Sunday at Peaceful Valley Ranch from 8:00 pm to 10:30 pm.
Join astronomers and rangers under the stars. Rove from telescope to telescope, each trained on a unique space object, while you listen to stories of night sky science and mythology.
Preserve your night vision! Get the most out of your experience and protect the night vision of others by leaving flashlights, cell phones, and all other light-emitting devices behind.
Last updated: August 5, 2019