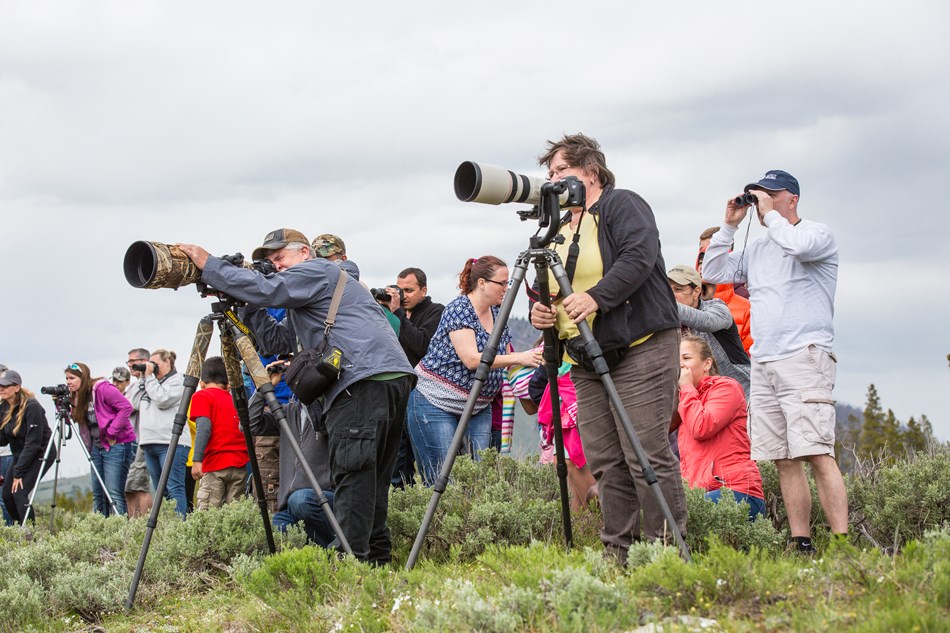 People travel from around the world to take pictures in Yellowstone. Where else can you witness the birth of a bison calf, see a grizzly bear steal a kill from a wolf, or watch the sun set behind an erupting geyser?
And we need your help to preserve these experiences.
While you're in the park, protect the things you come to enjoy, as well as yourself and other photographers, by following these simple rules:
Zoom with your lens, not with your feet.
Never approach or pursue animals to take their picture. Wild animals can become aggressive without warning, carry infectious diseases, and may be killed if they attack someone. Always remain 100 yards (91 meters) from bears and wolves, and 25 yards (23 meters) from everything else - unless you're shooting from the safety of a car. Zoom lenses with focal lengths up to 300 or 400mm offer a great combination of portability and reach.
Stay on boardwalks and trails in thermal areas.
Hot springs have injured or killed more people in Yellowstone than any other natural feature, and boiling water often lies just below ground throughout geyser basins. Don't risk your life for a photograph by underestimating the danger in these areas. Tripod legs must remain on boardwalks, and make sure you leave leave enough room for others to pass safely.
Park in roadside pullouts.
Don't block traffic to take pictures. Keep roads clear and stay with your vehicle if you encounter heavy traffic. Don't drive or park on roadside vegetation.
Carry bear spray.
All of Yellowstone is bear habitat: from the deepest backcountry to the boardwalks around Old Faithful. Learn how to use this non-lethal deterrent and read about other best practices for traveling safely in bear country.
Learn more about safety in Yellowstone and show your dedication to the park by taking the Yellowstone Pledge and sharing it with other photographers.