Thing to Do
Hike to Bass Lake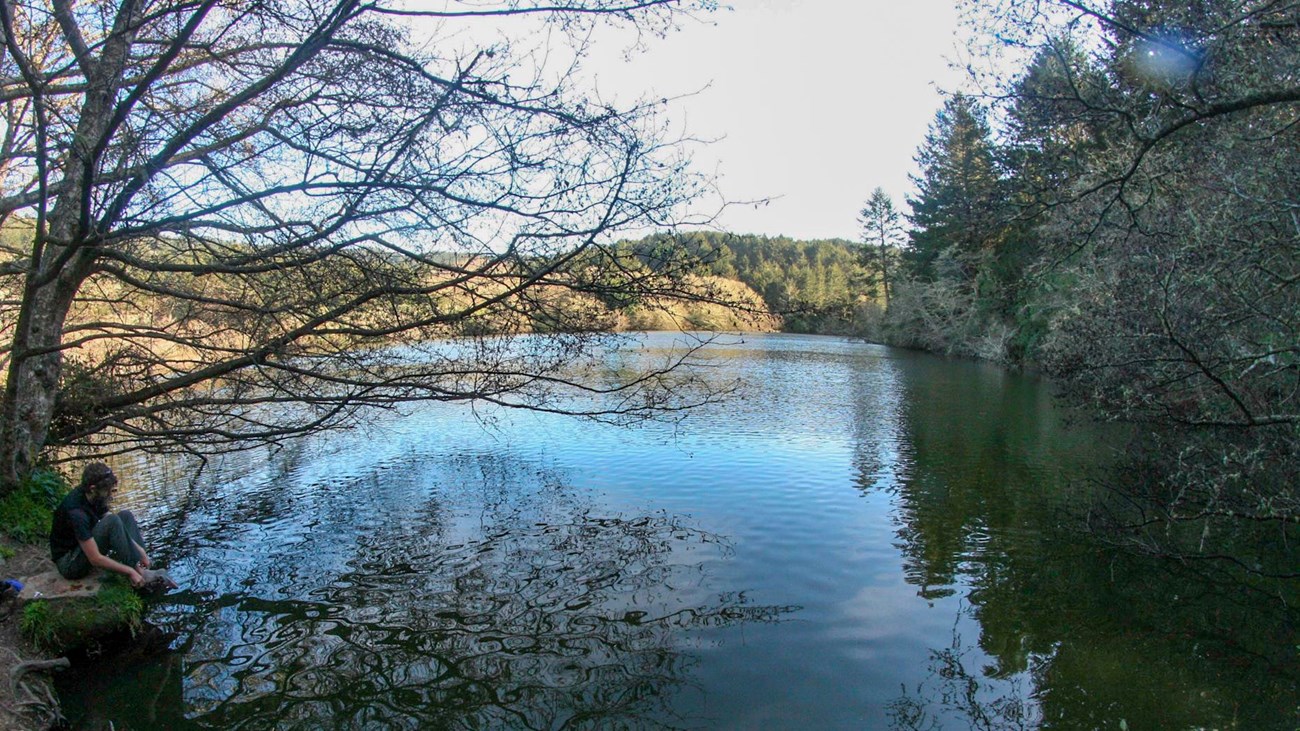 Distance: 6 miles (9.6 km) roundtrip, moderate
Bass Lake is a great destination for a moderate day hike, or a beautiful pit stop on the way to Wildcat Beach.
Begin at the Palomarin Trailhead and head northwest on the Coast Trail. Much of the first mile (1.6 km) of this hike offers spectacular ocean views from the tops of bluffs high above the surf. The Coast Trail then heads inland and drops in elevation to a valley floor before switchbacking out the other side. After climbing over a pass, one hikes past the Lake Ranch Trail junction and past a number of small ponds before reaching Bass Lake after 2.8 miles (4.5 km) of hiking. At 2.9 miles (4.6 km), an unmaintained spur trail leads to the southwest along the northwest side of Bass Lake.
Bass Lake is a popular, but unofficial, swimming spot; accessing the lakeside can be challenging and poison oak is common. There are no lifeguards—swim at your own risk.
This hike is mostly within the Phillip Burton Wilderness. There are no toilets at Bass Lake; be sure to use the vault toilets at the Palomarin Trailhead before starting your hike. Please practice Leave No Trace principles.
This route description alone is not a substitute for a trail map. Print out the Point Reyes National Seashore's South District trail map (3,422 KB PDF) before your visit, or pick one up at a visitor center on your way. Always check current conditions before heading out into the park and familiarize yourself with park regulations.  
Visit the park's Hiking at Point Reyes National Seashore page for hiking tips and information about trail etiquette and safety.
Visit the park's Trail Advisories and Closures page for current information about closed trails, trails blocked by trees, or other temporary hazards or advisories.
Allow two to three hours to hike to Bass Lake and back. Allow for more time to relax at Bass Lake.
Pets are prohibited on the Coast Trail and at Bass Lake. Visit the park's Pets page to learn where pets are welcome at Point Reyes National Seashore.
Entrance fees may apply, see Fees & Passes information.
Location
Bass Lake within the Phillip Burton Wilderness, Point Reyes National Seashore
Bass Lake is a small lake within the Phillip Burton Wilderness and is located about 3 mile (5 km) northwest of the Palomarin Trailhead.
From Bear Valley/Olema, head south on Highway 1 toward Bolinas and then, from just north of Bolinas, follow Mesa Road to its end at the Palomarin Trailhead. The last 1.2 miles (1.9 km) of Mesa Road is unpaved and is often severely potholed and washboarded. Allow 35 minutes drive time from Bear Valley to the Palomarin Trailhead.
Please be aware that on weekends throughout the year and on many weekdays throughout the summer, the parking lot at the Palomarin Trailhead fills very early in the day. Visitors arriving late in the morning or in the afternoon may be turned away. The park will close the Palomarin area to further entry, potentially for several hours, when there are no more parking spaces available in the parking lot. Please observe all "No Parking" signs. If you wish to visit Bass Lake or other locations accessed via the Palomarin Trailhead, arrive early, or consider visiting mid-week.
Directions to Bear Valley
Directions from Bear Valley to the Palomarin Trailhead
Winter
The heaviest rainfall occurs in the winter months. Come prepared for rain and drizzle to possibly last for several days. In between winter rains, it is often sunny, calm, and cool.
Spring
Most spring days are windy. Expect cool temperatures in March. By late May and early June, temperatures can be quite warm on the east side of Inverness Ridge, but remain mild along the coastline.
Summer
Although there is very little rain during summer months, there is often dense fog. Patchy morning fog may burn off by mid-day. Afternoons are often sunny and warm with a light breeze inland. By contrast, the beaches and headlands are often 20 degrees cooler with heavy fogs common throughout the day in July, August and September.
Fall
The coastal areas of Point Reyes experience some of the clearest days in late September, October, and early November. The occasional storm will start rolling through in late October, bringing clouds, wind, and rain. The strongest winds occur in November and December during occasional southerly gales.
Accessibility Information
The initial stretch of the Coast Trail from Palomarin Trailhead is fairly flat and wide, about 5 to 6 feet (1.5 to 1.8 m) across. The trail surface is packed dirt with exposed roots and rocks. As the trail progresses, it becomes narrower and rutted in places. Relatively short sections of moderate to steep grade exist, primarily after the first mile (1.6 km). 
Last updated: September 12, 2022