Place
Palomarin Trailhead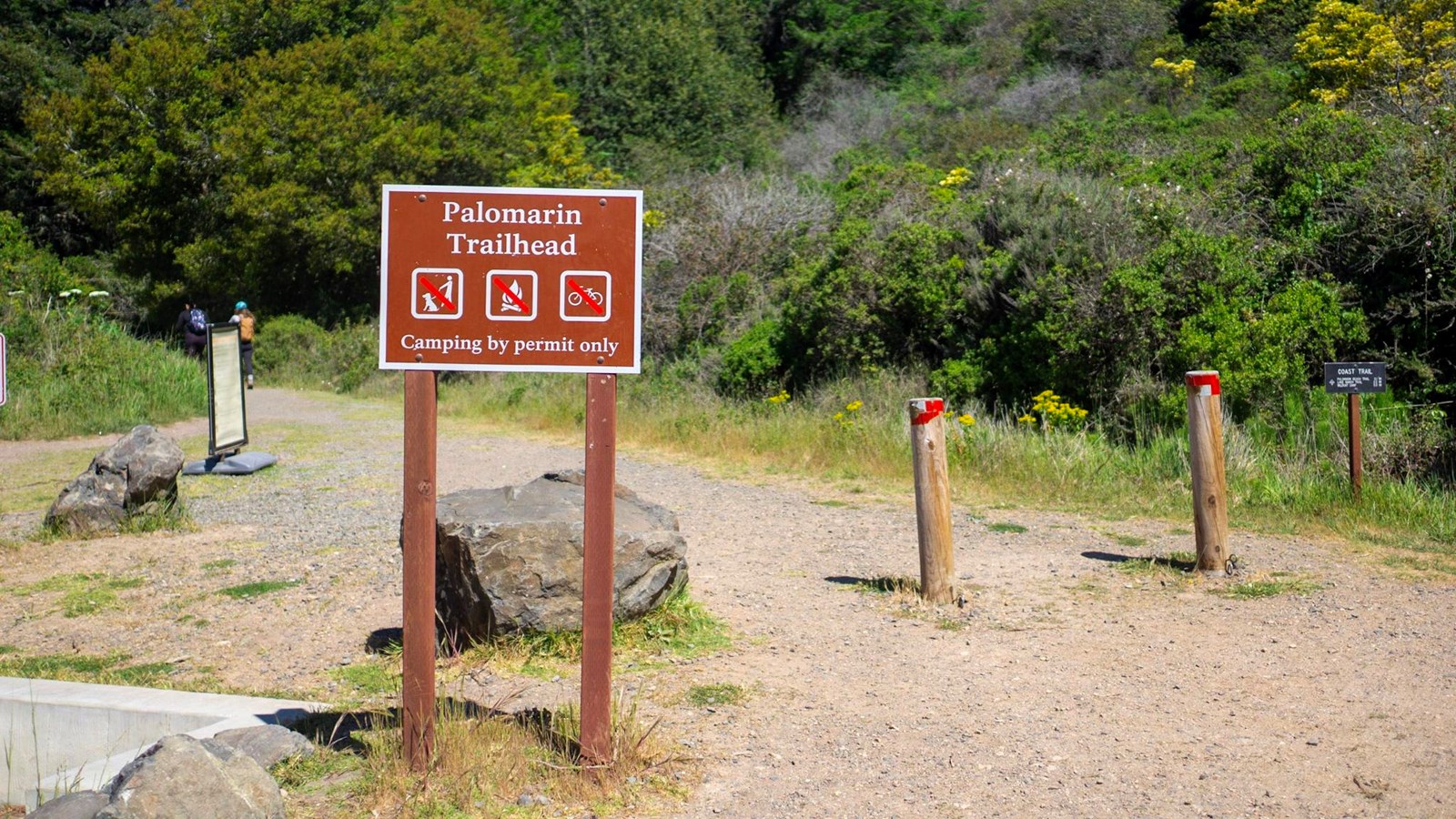 Location:
Point Reyes National Seashore's Palomarin Trailhead is located at the northwest end of Mesa Road, Bolinas, California. Geographic Coordinates: 37.9340, -122.7468
Information Kiosk/Bulletin Board, Parking - Auto, Recycling, Toilet - Vault/Composting, Trailhead, Trash/Litter Receptacles
The Palomarin Trailhead is located at the northwestern end of Mesa Road, approximately 5 miles (8 km) northwest of Bolinas. It is the southern end of the extremely popular Coast Trail. Between Palomarin Trailhead and Wildcat Campground, the Coast Trail connects with Lake Ranch Trail, Ocean Lake Loop Trail, Old Out Road Trail, and Stewart Trail. These trails see much less use than the Coast Trail and offer hikers the opportunity to enjoy a quieter Wilderness experience.
Suggested Routes From This Trailhead
Hike to Bass Lake: 5.2 miles (8.4 km) roundtrip, moderate
Hike to Wildcat Beach: 11 miles (17.8 km) roundtrip, moderate
Hike to Alamere Falls: 13 miles (21 km) roundtrip, strenuous
App Users: For more information on these specific routes, press the "Things to Do" icon on the park's homepage and select "Hiking" from the list of activities. Find the options listed above, or browse routes that begin at the park's other trailheads.
Take only pictures; leave only footprints: Almost everything one finds at Point Reyes is protected by law, including shells, rocks, fossils, flowers, and artifacts.
Please only travel on authorized trails, respect posted signs, and practice Leave No Trace principles when recreating in the park.
Check current conditions and trail advisories and closures before your visit.
Bikes are not permitted on any trails leaving from the Palomarin Trailhead. Visit our Bicycle Riding page to learn where bicycles are permitted at Point Reyes National Seashore.
Pets are not permitted. Visit our Pets page to learn where pets are permitted at Point Reyes National Seashore.
Horses and pack animals are permitted on most park trails, including the Coast Trail. Please visit our Horse Riding page for more information.
Drones are not permitted anywhere in Point Reyes National Seashore.
Parking
The Palomarin Trailhead parking lot is approximately 35 minutes by car from the Bear Valley Visitor Center. The last 1.2 miles (1.9 km) of Mesa Road is unpaved and is often severely potholed and washboarded. There is a gravel parking lot at the end of the road.
Additional Information
Please be aware that on weekends throughout the year and on many weekdays throughout the summer, the parking lot at the Palomarin Trailhead fills very early in the day. Visitors arriving late in the morning or in the afternoon may be turned away. The park will close the Palomarin area to further entry, potentially for several hours, when there are no more parking spaces available in the parking lot. Please observe all "No Parking" signs. If you wish to visit locations accessed via the Palomarin Trailhead, arrive early, or consider visiting mid-week.
Directions to Bear Valley
Directions from Bear Valley to the Palomarin Trailhead
Last updated: February 2, 2023