Thing to Do
Hike the Laguna-Coast Loop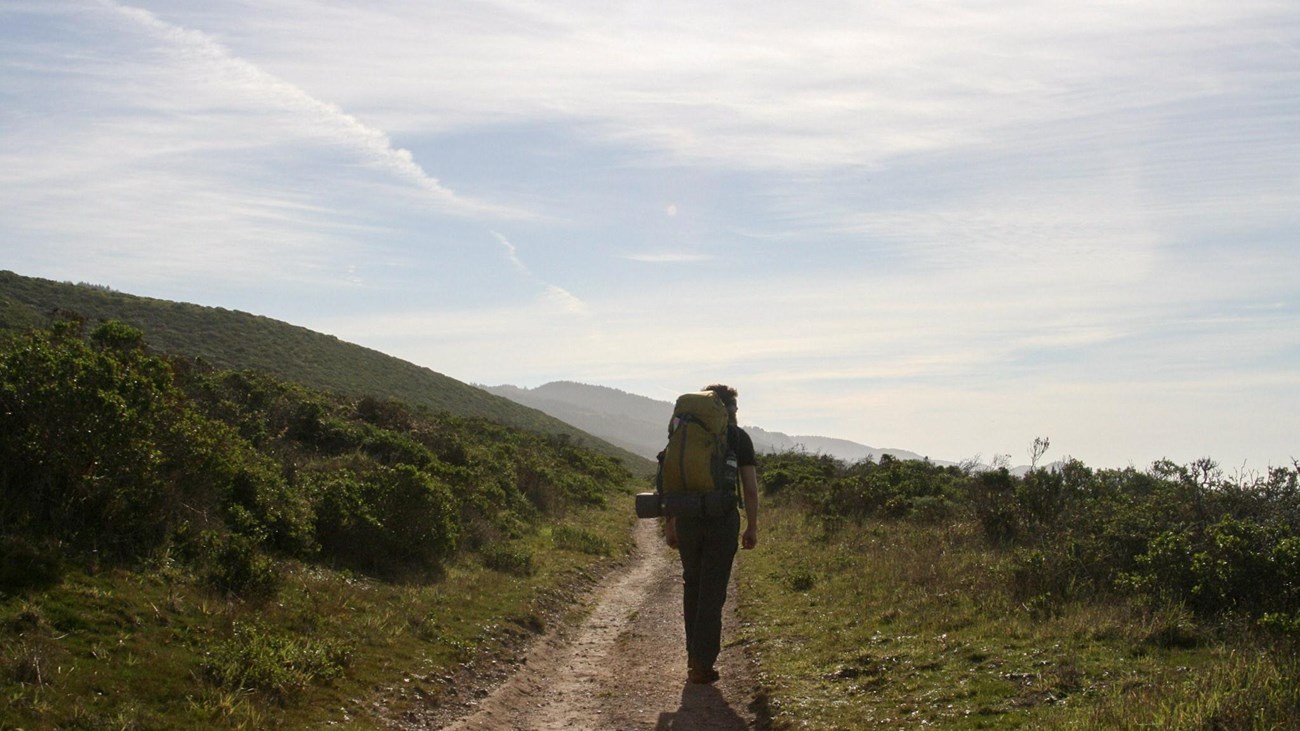 Distance: 5 miles (8 km) roundtrip, moderate
This hike through coastal scrub, coastal grasslands, and along a stream offers some breath-taking ocean views. This loop may be hiked either clockwise or counter-clockwise (when viewed from above or on a map), although many frequent hikers of this trail prefer the clockwise route. The route description below follows the clockwise route.
The Laguna-Coast Loop hike begins at the Laguna Trailhead and quickly enters the Phillip Burton Wilderness. The route steadily ascends the 0.8-mile-long (1.3-kilometer-long) southern leg of the Laguna Trail to a 400-foot-high (120-meter-high) ridge crest from which Drakes Bay is visible. The route then descends via the 1-mile-long (1.6-kilometer-long) southern leg of the Fire Lane Trail to the Coast Trail just north of the Coast Campground. After 1.8 miles (2.9 km), turn left on the Coast Trail for 0.1 miles (160 m) to reach the Coast Campground. Here, you can access the Santa Maria Beach, refill your water bottle at one of the campgrounds water faucets, or use the vault toilet.
Retrace your steps for 0.1 miles (160 m) to the Coast Trail-Fire Lane Trail junction. Instead of turning back up the Fire Lane Trail, continue on the Coast Trail for 2.8 miles (4.5 km). An additional place to descend to the beach is located 1.1 miles (1.9 km) west of the Coast Campground. This multi-use trail* meanders along the tops of coastal bluffs before turning north and inland to parallel a steam before ending at the Coast Trailhead near the Point Reyes Hostel. Turn right and walk a short distance along Laguna Road to return to your vehicle. Use caution when walking along the road.
* Bicycles are permitted on the Coast Trail from the Coast Trailhead to Coast Campground. Bicycles are prohibited on other trails in this immediate area. Visit the park's Bicycle Riding page to learn more about where bicylces may be ridden at Point Reyes National Seashore.
This loop can also be done in the opposite direction, beginning at the Coast Trailhead and ending at the Laguna Trailhead.
This route description alone is not a substitute for a trail map. Print out the park's South District trail map (3,422 KB PDF) before your visit, or pick one up at a visitor center on your way.
Always check current conditions before heading out into the park and familiarize yourself with park regulations. Please practice Leave No Trace principles.
Visit the park's Hiking at Point Reyes National Seashore page for hiking tips and information about trail etiquette and safety.
Visit the park's Trail Advisories and Closures page for current information about closed trails, trails blocked by trees, or other temporary hazards or advisories.
Allow two to three hours to hike the entire length of the Laguna-Coast Loop. Allow for more time to relax at Santa Maria Beach.
Pets are prohibited on the Laguna, Fire Lane, and Coast Trails, as well as other trails in this area. Visit the park's Pets page to learn more about where pets are welcome at Point Reyes National Seashore.
Entrance fees may apply, see Fees & Passes information.
Reservations are required for backcountry camping at Coast Camp. Details available under the "Where to Stay" tab in the app or on the park's backcountry camping page. Reservations are not required for day use. 
Winter
The heaviest rainfall occurs in the winter months. Come prepared for rain and drizzle to possibly last for several days. In between winter rains, it is often sunny, calm, and cool.
Spring
Most spring days are windy and this area frequently experiences fresh to strong breezes. Expect cool temperatures in March. By late May and early June, temperatures can be quite pleasant, even warm.
Summer
Although there is very little rain during summer months, there is often dense fog throughout the day in July, August and September with temperatures often 20 degrees cooler than at Bear Valley.
Fall
The coastal areas of Point Reyes experience some of the clearest days in late September, October and early November. The occasional storm will start rolling through in late October, bringing clouds, wind, and rain. The strongest winds occur in November and December during occasional southerly gales.
Time of Day
Day, Dawn, Dusk
Point Reyes National Seashore is open for day-hiking from 6 am to midnight. Camping and overnight parking is only permitted with a valid camping permit.
Accessibility Information
The Laguna and Fire Lane Trails are fairly narrow and moderately steep and can be deeply rutted in some places. The Coast Trail from the Coast Trailhead doubles as an eight-foot-wide (2.4-meter-wide) service/fire road that is composed of compacted dirt and gravel (and potholes and washboarding). Otherwise, the Coast Trail's northern 2.8 miles (4.5 km) is relative flat; the steepest section is at the Coast Trail's junction with the Laguna Road where the trail drops relatively steeply from the built-up road to the valley floor.
Last updated: September 16, 2022