THING TO DO
Explore Arlington House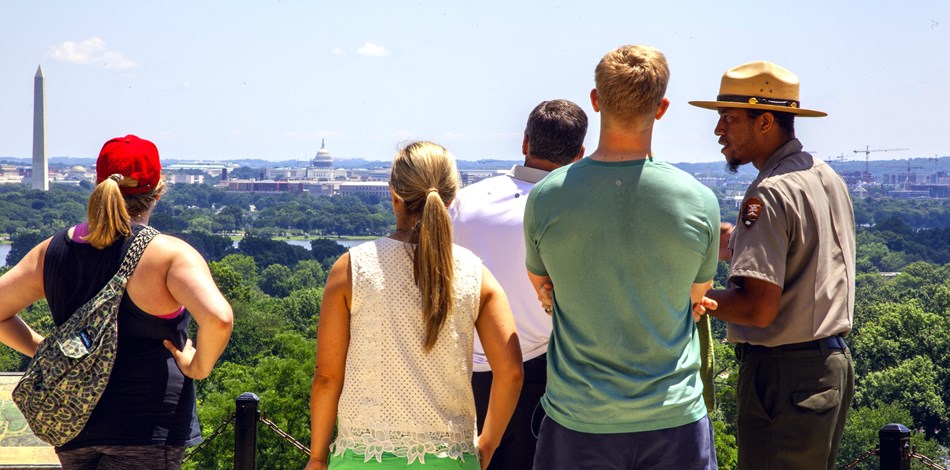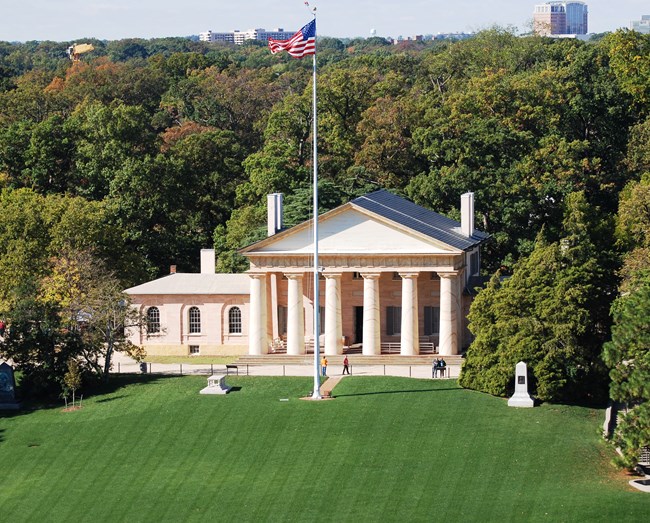 Take a tour or walk the grounds of Arlington House to learn how it has served as a family home, a military headquarters, a national cemetery, and much more. When visiting Arlington House, you may walk through the mansion at your own pace or you can ask if there is a scheduled tour available. The tours start on the hour and take between thirty and forty-five minutes. Normally, tours occur on weekends in the winter or every day in the summer. The guided tours take you to areas not normally accessible and meet under the large tree behind the house.
The Robert E. Lee Museum at Arlington House contains exhibits and artifacts about Robert E. Lee and his family. Included are original objects from the Lee and Custis families. The enslaved quarters are located on the North and South ends of Arlington House and help to tell other parts of the Arlington House story.
Pets are not allowed inside public buildings or in the cemetery, unless a designated assistance animal
There is no fee to visit Arlington House, the Robert E. Lee Memorial.
Arlington House, The Robert E. Lee Memorial 
George Washington Memorial Parkway 
c/o Turkey Run Park 
McLean , VA 22101
For information on permits, please contact the permit office for the George Washington Memorial Parkway at (703) 289-2513. For information on reservations, please call Arlington House, the Robert E. Lee Memorial at (703)-235-1530.
Core hours with extended summer hours
Open daily 9:30 AM - 4:30 PM Closed on New Year's Day, Thanksgiving Day, and Christmas Day.
Standard Hours
Sunday:

 9:30 AM - 4:30 PM

Monday:

 9:30 AM - 4:30 PM

Tuesday:

 9:30 AM - 4:30 PM

Wednesday:

 9:30 AM - 4:30 PM

Thursday:

 9:30 AM - 4:30 PM

Friday:

 9:30 AM - 4:30 PM

Saturday:

 9:30 AM - 4:30 PM
Accessibility Information
If your questions concerning accessibility are unanswered after reading this webpage, please contact us at 703-289-2500 or e-mail us.
Service Animals
Service animals are allowed in national parks. For a definition of a service animal, please see the Americans with Disability Act (ADA) definition.
Facilities
The basement and 2nd floor of the house are not accessible by wheelchair and may prove difficult for some. However, there is wheelchair access to the 1st floor of the house and museum. 
For information about accessibility at Arlington Cemetery, please visit their website.
Programs
Assistive listening devices, or large print brochures may be available by request or with advance notice. For information about individual park programs, please visit park websites. Accessibility information is located under the Plan Your Visit tab.
Last updated: April 13, 2017