Thing to Do
Walk Around the Tidal Basin

Activity
Self-Guided Tours - Walking
Pets Allowed
Yes with Restrictions
Pets are allowed on the Tidal Basin trail and grounds of the memorials but not inside the memorials themselves. Pets should stay on leashes no longer than 6 feet in length. Service animals are permitted without exception.
Entrance fees may apply, see Fees & Passes information.
The Tidal Basin is part of the National Mall and Memorial Parks. The site lies at the southern end of the National Mall, adjacent to the Tidal Basin in West Potomac Park. The memorial rests within the sightline to and from the White House, which stands one mile to the north.
Parking
General parking is available on West Basin Drive, on Ohio Drive SW, and at the Tidal Basin parking lot along Maine Ave., SW. Handicap parking and bus loading zone are available on Home Front Drive SW, accessed from southbound 17th St.
Public Transportation
Public Transportation is the best option for reaching National Mall and Memorial Park sites easily and conveniently. There are many options to reach us via Washington, DC's Subway system known as Metro, or bicycle viaCapital Bikeshare. The National Mall Circulator Loop bus will provide easy access around the National Mall and convenient connections to other Circulator buses for visits to uptown sites. Trains including Amtrak, MARC, andVRE service Union Station and/or L'Enfant Plaza in Washington, D.C.
Car
Interstate 395 provides access to the Mall from the South. Interstate 495, New York Avenue, Rock Creek and Potomac Parkway, George Washington Memorial Parkway, and the Cabin John Parkway provide access from the North. Interstate 66, U.S. Routes 50 and 29 provide access from the West. U.S. Routes 50, 1, and 4 provide access from the East.
Time of Day
Day, Dawn, Dusk
Accessibility Information
Service Animals
Service animals are allowed in national parks. For a definition of a service animal, please see the Americans with Disability Act (ADA) definition.
Facilities
There are accessible parking spots next to the FDR memorial and next to the Jefferson Memorial. The Tidal Basin path is level and wheelchair accessible. All of the monuments are accessible along the Tidal Basin path, and each monument has accessible restrooms.
Programs
Assistive listening devices, or large print brochures may be available by request or with advance notice. For information about individual park programs, please visit park websites. Accessibility information is located under the Plan Your Visit tab.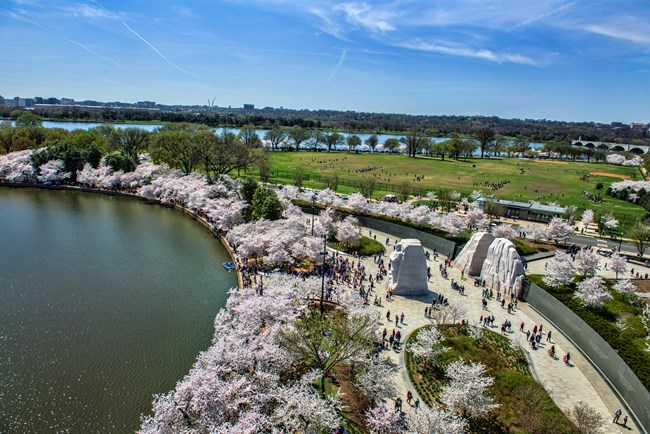 Shimmering in the sun, surrounded by cherry trees and national monuments, the Tidal Basin is a must see in Washington, DC. The
Thomas Jefferson Memorial
,
Martin Luther King Jr. Memorial
, and the
Washington Monument
are easily visible along the two mile long Tidal Basin Loop Trail.
Concessionaires offer paddleboat rentals during late spring, summer and early fall.
Tags
Last updated: March 28, 2023