THING TO DO
Bike the Bolinas Ridge Trail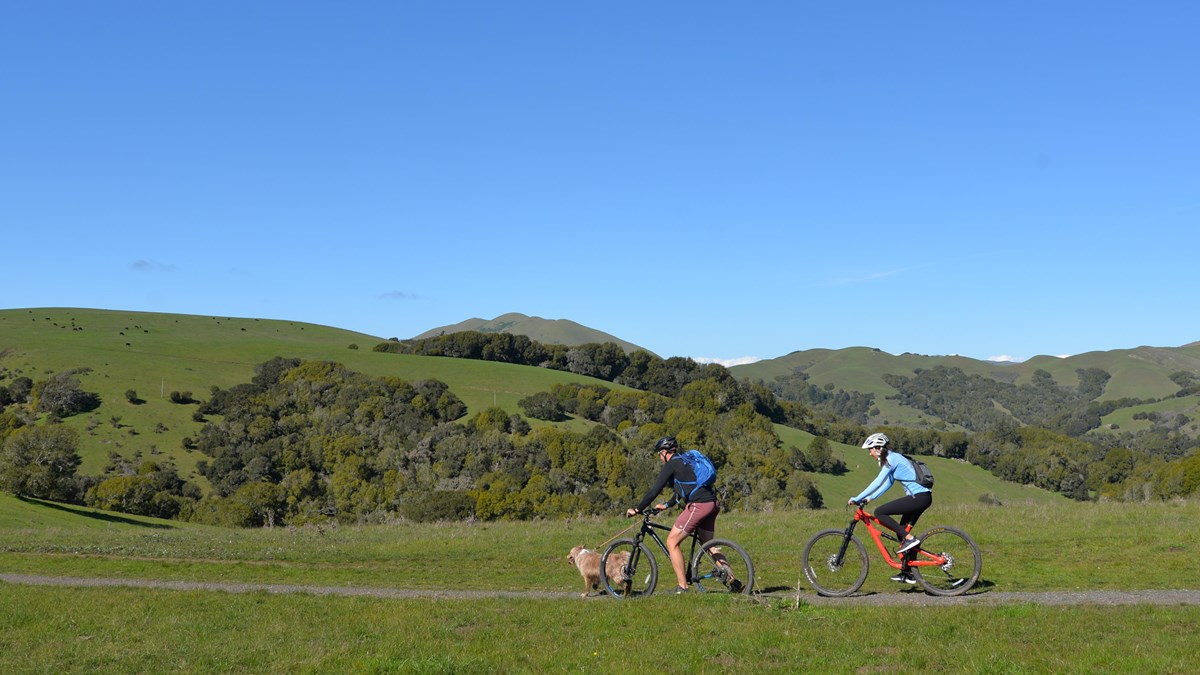 Distance: 2 to 22 miles  (3 to 35 km roundtrip)

Enjoy redwood forests, open hillsides, decent climbs and flowy downhills on this multi-use trail. The trail itself is dirt and varies between single track and double track; road bikes are not recommended. It begins with a steady climb that winds up and onto the ridge. This is an out-and-back trail, so it provides visitors with the flexibility to choose how long they want to make their adventure. The Bolinas Ridge Trail is 11 miles from its northern trailhead on Sir Francis Drake Boulevard to its southern terminus on the Bolinas-Fairfax Road. Turn around and retrace your ride whenever you are ready or map a return route with connecting trails and roads. Be advised that shoulders on area roads are narrow or non-existent and traffic can be heavy. Ride with care. 

This route description alone is not a substitute for a trail map. Print out the park's South District trail map (3,422 KB PDF) before your visit, or pick one up at a visitor center on your way.

This trail is shared with hikers and horseback riders; bikes must yield to both. It also traverses open rangeland, and grazing cattle may be present. Give them plenty of space when passing. Dogs are allowed on the Bolinas Ridge Trail, but must be on a six-foot or shorter leash at all times.
Entrance fees may apply, see Fees & Passes information.
Location
Bolinas Ridge Trailhead
Allow five minutes driving time from Bear Valley to the Bolinas Ridge Trailhead, which is east of Olema on Sir Francis Drake Boulevard. You can also connect to the Bolinas Ridge Trail from the Randall or McCurdy trailheads, which are both south of Olema on Highway 1.
Time of Day
Day, Dawn, Dusk
Accessibility Information
The parking for the Bolinas Ridge Trailhead on Sir Francis Drake Boulevard consists of multiple roadside pullouts that are unpaved. There is also a cattle trap at the beginning of the trail (an L-shaped chute to walk through that prevents cattle from escaping) which might be difficult to pass for some users. Cyclists must lift their bikes over this feature. The trail surface is mostly compacted soil. While the footing is typically even, rain and heavy traffic can make the trail muddy and rutted in various sections. The trail is 3-6 feet wide in most places, and traverses through open grasslands, shrubs and forests. Steep grades exist.
Last updated: March 9, 2021