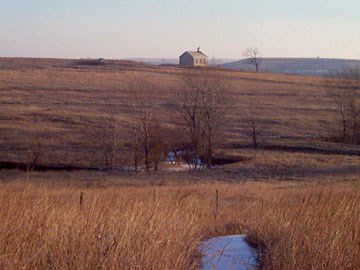 Residents of the Fox Creek area decided in 1878 - 1879 that a school district should be formed for the education of their children. Being one of the earlier districts formed, it was given the number 14, though it was commonly called the Lower Fox Creek School.

The site for the schoolhouse was donated by Stephen F. Jones with the stipulation that the deed would revert back to the ranch owner when the place was no longer used as a school. The deed was recorded on June 14, 1882, after the building had been completed in May. The first school term began on September 1, 1884, with Dora Peer as the teacher. The average enrollment was between 1-19 students of all grades. The school was closed in 1930 and the district was disbanded in 1946-47. At that time, the schoolhouse and its grounds reverted to the adjoining ranch. A tornado or windstorm destroyed the original roof; a tin replacement was put on and the building was used to store hay.
Interesting enough, the stone for the school came from Barney Lantry's quarry, just north of Strong City, KS and David Rettiger did the stone work. David Rettiger was the same contractor on Jones' Spring Hill Ranch house.