Virtual Tour Lower Fox Creek Teachers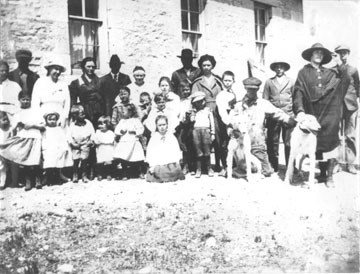 Students and Parents
Generally children walked no more than 1 to 2 miles one way to school. Roughly each square mile there was a portion of land set aside for a schoolhouse, but final school placement was determined based on the amount of students within the surrounding area that it would serve. Mr. Jones donated land for the placement of the Lower Fox Creek School with the stipulation it would revert to the landowner if the school ever closed.

Nineteen students of the Lower Fox Creek School and their parents are pictured. Included are the Ericksons, Adkins, and Brouse families. This photograph was taken between 1916-1919.

Ann Adkins is the girl in the front row on the far left with the "skirt being pulled by little sister Josephine. Walter [Adkins] is the brother holding the greyhound dogs." Oral history quote from Ann Adkins Kern.

The Teachers of the Lower Fox Creek School
(Information from the Chase County Register of Deeds)
Year Taught

Name of Teacher

Salary& Students

1884

Dora Peer

$35.00 per month

1885

Roy Hacket

1886

Mrs. Gus Walsh

1887

Minnie Ford

1888

Ada Baker

1889

Maude Johnston

1890-91

Hattie Jeffrey

$35 per month -
19 students ages 5-20

taught 28 weeks

1891

Carrie Breese

1892

Iva Jackson

1893

Effie Thomas

1894

Nellie Sanders

1895

Amie Daugherty

1896

David Wood

1899-1900

Heffie Chensey

1901-1903

Mattie Daugherty

1902

Adah Hunt

1904

Eulah Finley

1905

Carrie Noyes

1906

Alda Crawford

1907

H.A. Rose

1908

Rose Kramer

1909

Etta Anderson

1910

Mable Armour

1911-1914

Nellie Robert

$40 per month in 1914

1911-1915

Elaine Johnson

1916

Bessie Lewis

9 students
ages 8 - 19

1917

Gladys Rockwell

1918-20

Emogene Humphrey

7 students, ages 5,6,7,10,11,and 14 - taught 32 weeks

1921-22

Ruby Hacker

9 students, ages 6,8, 9,11,12,and 13 - taught 32 weeks

1923

Mrs. Gertrude Bacon

1924

Mary Glanville

19 students ages 5-20 - taught 28 weeks

1925

Clara Winsor

1926

Grace Gardner

$80.50 salary, 3 students ages 6, 11, and 13 for 32 weeks.

1928

Six students sent to Cottonwood Falls for school

1929

Marguerite Erickson

$80.00 per month in 1929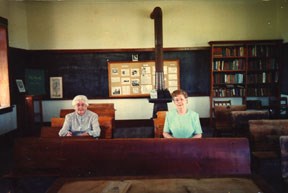 Pictured are two former Lower Fox Creek School students. In this photo on the left is Ann Adkins and on the right is her younger sister, Josephine. They attended this school from 1916 - 1924.
What Ann and Josephine remember most about their school days was the strict discipline. There was no giggling, whispering, or talking out loud unless the teacher spoke to you. They also remember the school yard catching on fire one year. The students formed a bucket brigade from the cistern to the fire and managed to save the school.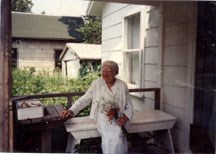 Grace Garner taught at the Lower Fox Creek School in 1926. She had only three students; Verna Gordon - age 13, Doris Erickson - age 11, and Bernice Erickson - age 6 years.
Last updated: July 22, 2017