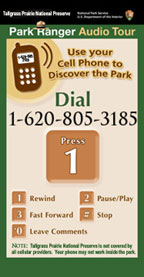 Self-guiding Historic Ranch Headquarters
Cell Phone Tour

Click on the links below to visit via the internet or you may call (620) 805-3185 and punch in the tour stops to learn about the history of the 1881 Spring Hill Farm and Stock Ranch, the prairie, and the one-room schoolhouse.

1. Historic Buildings and Prairie Overlook


2. Scenic Flint Hills Driving Tour
This 37 mile driving tour follows a portion of the Flint Hills National Scenic Byway K-177 from Strong City, Kansas as far south as Matfield Green. The tour loops through the Flint Hills with the tour ending at Bazaar, Kansas. This tour is a great alternative if you've missed one of our scheduled prairie bus tours. Welcome to the beautiful Flint Hills.
3. Spring Hill Ranch House Interior Tour
Stop 201:
Welcome
Stop 202:
Introducing the Jones Family
Stop 203:
Formal Entry, Parlor, and Interiors
Stop 204:
Walnut Staircase and Original Wood Flooring
Stop 205:
Former Kitchen Areas
Stop 206:
Jones' Office, Bedroom, and Back Porch
Stop 207:
Dining Room, Sitting Room, and Butler's Pantry
Stop 208:
Upper Floor Bedrooms and Bathtub Area
Stop 209:
Front Porch and the View to the East
Stop 210:
Jones Family History from 1886 - 1914
4. Spring Hill Ranch Barn Tour