Cell Phone Tours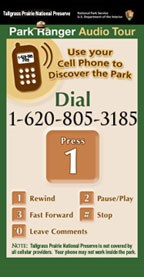 Self-guiding Historic Ranch Headquarters

Click on the Complete Tallgrass Prairie National Preserve Tour for the entire tour, click on the individual links below, or call (620) 805-3185 and enter the tour stops to learn about the history of the 1881 Spring Hill Farm and Stock Ranch, the prairie, and the one-room schoolhouse.

Please Note: The hiking trail numbers 13 - 65 do not correspond with the Cell Phone Tour at this time.
1. Historic Buildings and Prairie Overlook
Stop 1: Three-level limestone barn
Stop 2: Stone corrals and fences
Stop 3: Outbuildings
Stop 4: Scratch shed
Stop 5: Chicken house
Stop 6: Carriage house
Stop 7: Ranch house
Stop 8: Curing house
Stop 9: Outhouse
Stop 10:Icehouse
Stop 11: Prairie overlook
Stop 12: Lower Fox Creek Schoolhouse
2. Flint Hills National Scenic Byway
The Flint Hills National Scenic Byway (K-177) is 42 miles of beautiful wide open prairie between Council Grove and Cassoday, Kansas. As you travel the byway, tune your AM dial to 1680 to hear about the many natural and cultural resources of the tallgrass prairie ecosystem. Much of the following information is provided on our prairie bus tours. There is no driving or biking on the preserve hiking trails, but K-177 provides a beautiful landscape through the Flint Hills with an Overlook Area a few miles south of Cottonwood Falls, KS.
Stop 100: Tallgrass Prairie National Preserve establishment
Stop 101: Naming the Flint Hills
Stop 102: Scenery, Flint, and Patchburn Grazing
Stop 103: Last Remaining Tallgrass Prairie and the Prairie Chicken
Stop 104: "Legs" of the Tallgrass
Stop 105: Flint Hills Plant Growth
Stop 106: Surviving Adversity through Diversity
Stop 107: Flint Hills Erosion
Stop 108: Stone Fences and Quarries
Stop 109: Flint Hills Geology and Settlement
Stop 110: Kansa Relocation
Stop 513: Establishment of the Preserve
3. Spring Hill Ranch House Interior Tour
4. Spring Hill Ranch Barn Tour
5. Lower Fox Creek Schoolhouse Tour
Last updated: February 20, 2022