About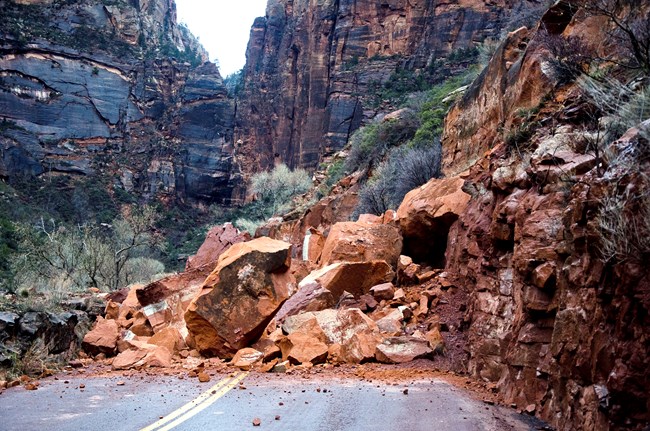 A geologic hazard is a naturally occurring, dynamic geologic process capable of causing damage, loss of property, and/or injury and loss of life. Geologic hazard processes can happen slowly over days or years, or have a sudden onset occurring in seconds or minutes. Engineering solutions, such as stabilizing hillslopes or building flood walls, can mitigate some serious hazard-related safety issues, but many naturally occurring hazards are more difficult to mitigate, such as a rockfall or sinkhole formation. These hazards may pose a threat to the safety of visitors and employees, the structural integrity of facilities, and the preservation of irreplaceable cultural resources.

Listed below are categories of geohazards and brief descriptions of the types of dangers associated with each hazard.
Natural Process Geohazards
Additional Geohazards
Human activities can influence the the rate and magnitude of geologic processes, and introduce or concentrate hazardous materials. One example is hazards related to mineral extraction, especially abandoned mines which are no longer maintained for entry.
Reference
Schaller, E. M., V. L. Santucci, S. B. Newman, T. B. Connors, and E. L. Bilderback. 2014. Summary and categorization of documented geologic hazards of the National Park System. Natural Resource Report NPS/NRSS/GRD/NRR—2014/813. National Park Service, Fort Collins, Colorado.
Last updated: August 16, 2019