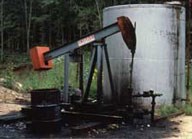 Stay Out and Stay Alive!
Occasionally, adventurous people enter abandoned mines and wells. Some are injured or do not make it out because they fell victim to one or more of the many hazards associated with abandoned mineral sites.
Many abandoned mines become flooded. The most common cause of death in abandoned mines nationally is drowning in water-filled quarries and pits due to the presence of rock ledges, old machinery, and other hazards that may be hidden beneath the water's surface. The water can be deceptively deep and dangerously cold;and steep, unstable, slippery walls make exiting these features extremely difficult. In underground mines, shallow water can conceal sharp objects, drop-offs, and other hazards.