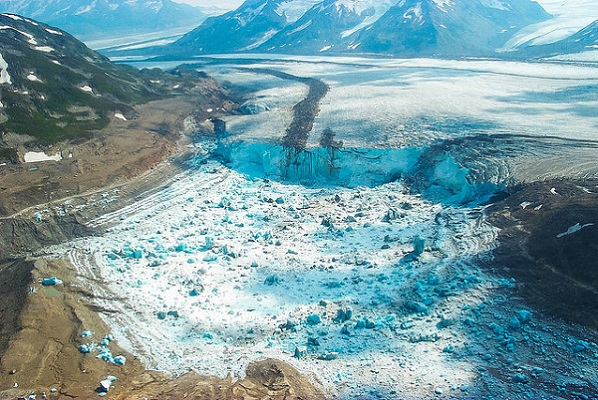 Jökulhlaups (an Icelandic word pronounced yo-KOOL-lahp) are glacial outburst floods. They occur when a lake fed by glacial meltwater breaches its dam and drains catastrophically. These lakes can take a number of forms:
Ice dammed lakes that are held in by the glacier ice itself
Moraine, rock, or sediment dammed lakes
Lakes that lie form beneath glaciers
In order for a jökulhlaup to occur, the lake water levels must reach a critical point such that the lake:
Causes its ice dam to float
Overtops its dam, causing rapid incision into the sediment, rock, or ice that contains it
Carves large meltwater channels beneath the glacier ice that allow for rapid drainage
Jökulhlaups may occur with a somewhat regular periodicity, but others drain without warning. 
Last updated: February 9, 2018