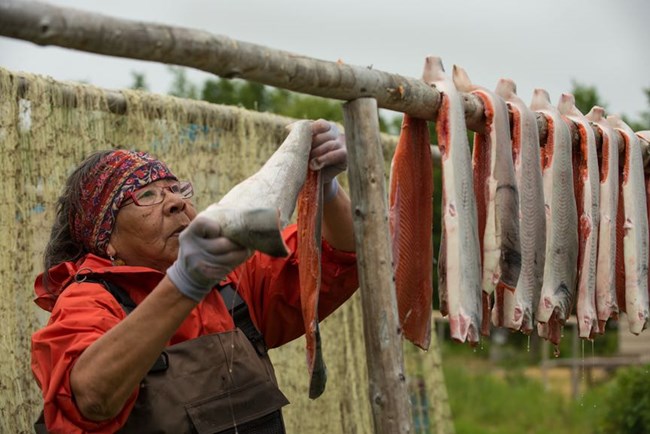 ANILCA and Subsistence Management
The Alaska National Interest Lands Conservation Act (ANILCA) of 1980 recognizes the importance of subsistence to rural Alaska residents. It also recognizes the importance of maintaining unspoiled ecosystems and healthy fish and wildlife populations. In fact, ANILCA views subsistence as an important part of the "natural and healthy" functioning of ecosystems. The subsistence way of life is one of the timeless values sustained by Alaska's national park units.
NPS Subsistence Management in Alaska
ANILCA established many new parks, preserves, and monuments in Alaska and expanded some existing park units. Congress understood the importance of these lands to Alaska rural residents. They made sure that subsistence uses were allowed in nine of the new park units and in two of the existing areas. Congress also established a priority for subsistence. It states that subsistence uses of fish and wildlife shall be given priority over other uses of these resources. This is now commonly known as the "rural preference."
ANILCA allows local rural residents to use fish, wildlife, plants and other wild renewable resources for subsistence on the following NPS-managed lands:

Providing opportunities for people to maintain a subsistence way of life is an important part of managing national park units in Alaska. It also requires close working relationships between the NPS and local rural residents.
To help build those relationships ANILCA requires the NPS to establish subsistence resource commissions (SRCs) in parks and monuments where subsistence is allowed. These SRCs serve as a direct link between subsistence users and NPS managers. They provide a source of local knowledge and guidance about the subsistence needs and practices of rural people. They also provide feedback on potential changes to subsistence regulations and other subsistence-related issues affecting lands managed by the NPS.