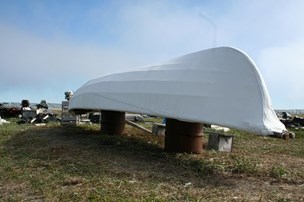 Whaling
Traditionally, whale hunting is done in an umiaq, or skin boat, made from seal skin sewn to a wooden frame with caribou sinew. During whale migration and when the sea ice is thin enough around late spring or early fall, whaling crews go out and use harpoons for the initial attack, followed by a whaling gun to make the final kill. Some of most commonly hunted species are aaviq (bowheads) and qioalugaq (belugas).
As per the International Whaling Commission regulations, Inupiaq hunters are allowed a certain number of whales per year. Each whale is large enough to feed the entire community (some over 40 tons), so its consumption is typically accompanied by thanks, celebration, and distribution of the meat.
All parts of the whale are used. The skin and blubber is called muktuk. Typically eaten raw, it can also be pickled, diced, or breaded and is known to be an excellent source of vitamins C and D. Quaq is the meat cut into cubes, and avarruq are thin strips of the flukes, both customarily eaten frozen and raw. The bones of the whale are used for carvings, artwork, and tools.