Subsistence in Wrangell-St. Elias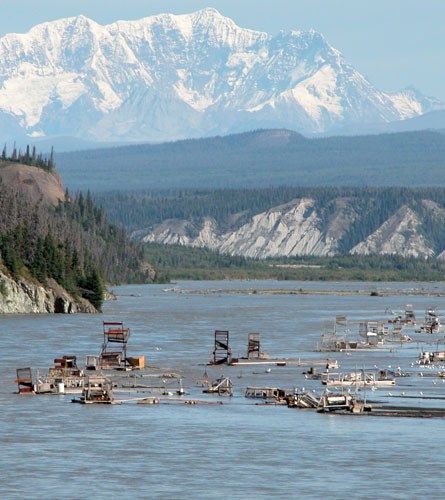 A Way of Life
Many Alaskans live off the land, relying on fish, wildlife and other wild resources. Subsistence fishing and hunting provide a large share of the food consumed in rural Alaska. The state's rural residents harvest about 22,000 tons of wild foods each year — an average of 375 pounds per person. Fish makes up about 60 percent of this harvest. Nowhere else in the United States is there such a heavy reliance upon wild foods.
Alaska Natives have used these resources for food, shelter, clothing, transportation, handicrafts and trade for thousands of years. Other residents living in rural Alaska depend on local harvests as reliable and economic food sources. For many, subsistence is more than just about economics. It is about who they are; it is a way of life.
The park along with Alaska Department of Fish and Game have surveyed local area residents to determine the harvest of subsistence resources.
You can find complete reports on the Alaska Department of Fish and Game website.

ANILCA
When the U.S. Congress passed the Alaska National Interest Lands Conservation Act (ANILCA) in 1980, which established Wrangell-St. Elias National Park and Preserve along with many other conservation areas in Alaska, it recognized the important connection between local rural subsistence users and the land in allowing for a continued opportunity for a subsistence lifestyle by rural Alaska residents, both Native and non-Native.
As long as resources and their habitats are maintained in a natural and healthy state, traditional subsistence hunting and fishing are allowed in the park and preserve. Additionally, ANILCA provides that rural residents with knowledge of local conditions should have a role in the management of subsistence resources on public lands.

More Information...
Learn about Subsistence in Alaska National Parks from the National Park Service Alaska Regional Office.
Promises to Keep (subsistence in Alaska national parklands brochure, pdf format, 348 KB)

For specific information, click on the following links:
Subsistence Eligibility
Subsistence Access
Subsistence Resource Commission
Subsistence Fishing
Subsistence Hunting
Hunting, Fishing and Backcountry Planning Map
This interactive map includes information about land status (park, preserve, wilderness, non-NPS lands), trails, GMU boundaries, and key hunt area boundaries. You can zoom into areas of interest, turn on and off layers relevant to your trip, and download customized georeferenced PDF (Portable Document Format) maps that can be printed, displayed on a PDF reader, or uploaded to a GPS-enabled mobile device, such as a smart phone.

Hunt Area Maps
These downloadable maps show important information for hunters including game management unit boundaries; park, preserve, and wilderness boundaries; trails; and non-federal lands within the boundaries of Wrangell-St. Elias. All maps can be viewed on a PDF reader or printed. Some of the maps are georeferenced PDFs that can be uploaded to a GPS-enabled mobile device, such as a smart phone.

Wrangell-St. Elias Subsistence User Guide (pdf format, 2.4 mb)


Last updated: January 19, 2022