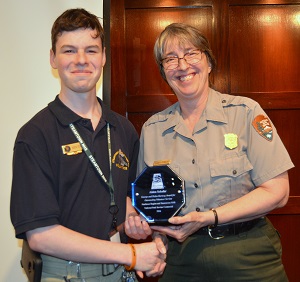 News Release Date:
May 2, 2017
Contact: Bill Nalevanko, 570-241-8258
SCRANTON, Pa. – Steamtown National Historic Site, downtown Scranton, proudly announces that Volunteer-in-Park (VIP) Aiden Schafer is the recipient of a prestigious National Park Service (NPS) George and Helen Hartzog Award for Outstanding Volunteer Service. The award, presented annually in six categories, is named in honor of former National Park Service Director George B. Hartzog, Jr., and his wife, Helen. Mr. Schafer received the "Youth Volunteer Award," recognizing the contributions of an individual younger than 18 years of age.   
In announcing the selection of Mr. Schafer as the NPS Northeast Region's youth recipient on April 3, Acting Northeast Regional Director Joshua Laird noted, "In fiscal year 2016, 63,900 volunteers contributed 1,470,300 hours of service in the region. They contribute their creativity, enthusiasm and knowledge to park programs, 83 park sites and 20 National Heritage Areas every day, from leading interpretive programs to battlefield and beach cleanups. It is impossible to imagine our parks and programs functioning without them." The National Park Service's Northeast Region is comprised of units in Pennsylvania, Connecticut, Delaware, Maine, Maryland, Massachusetts, New Hampshire, New Jersey, New York, Rhode Island, Vermont, Virginia and West Virginia. The late Director Hartzog (1964-1972) stated, "When a Volunteer-in-Parks (VIPs) agree to share their talents, skills and interests with the National Park Service, they are paying the organization one of the highest compliments possible by offering a most valued possession - their time." Nominated by the Steamtown NHS park staff, Schafer's selection as the Northeast Region Hartzog Award youth recipient attests to his valued service to the park and region.  
During National Volunteer Week (April 23-29), the park also held its annual volunteer recognition banquet. At the banquet, Park Superintendent Debbie Conway announced that Mr. Shafer was also selected as the national recipient of the Youth Volunteer Award. The national award will be presented at an August ceremony in Washington, D.C. Conway noted that in two short years and in spite of the demands of high school, Schafer has amassed more than 800 hours of volunteer time in support of activities with the Division of Interpretation and Education at the park. Schafer assists as the park VIP coordinator's "right hand man" in helping recruit and mentor new volunteers. He is recognized by seasoned VIP train crew members both for his passion and his reliability as a "go-to guy" during railroad operations. He helps to develop training materials and to present a variety of programs, while also collaborating with park staff to manage software that tracks the efforts of nearly 240 park volunteers.   
Individuals interested in Volunteer-in-Park opportunities at Steamtown NHS are urged to visit
https://www.nps.gov/stea/getinvolved/volunteer.htm
for information and application. To learn about volunteer opportunities with other National Park Service locations, visit
Volunteer.gov
.  
Located in downtown Scranton, Pa., Steamtown NHS is open daily from 9:00 a.m. – 5:00 p.m. daily.   From I-81 follow exit 185 (Central Scranton Expressway); then, follow the brown and white signs to the park entrance at Lackawanna and Cliff Avenues (GPS: N 41.41, W 75.67). General park information is available by phoning (570) 340-5204 during regular business hours, or by visiting the park website anytime.