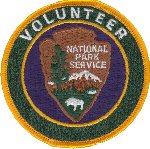 About the Volunteer-In-Park (VIP) Program at Steamtown National Historic Site
Volunteer opportunities at Steamtown NHS are diverse - from Info Desk Attendant to Tour Guide in the Interpretive Division, from Trainmen to Engineers in Railroad Operations, mechanics, sheet metal fabricators, and curatorial assistants. Our varied opportunities exist to help fulfill the Park mission and Comprehensive Interpretive Plan to preserve this important part our industrial heritage!
If you are interested in volunteer opportunities at Steamtown NHS, read the Introductory Letter and complete and return the VIP Application, both below. For more information, please email the Park Volunteer Coordinator.
To view more NPS volunteer opportunities, visit volunteer.gov