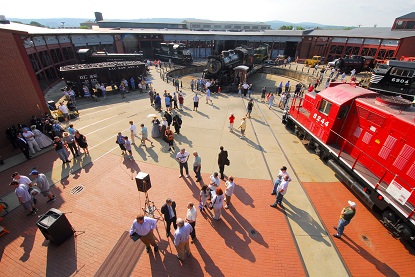 News Release Date:
June 16, 2016
Contact: Train Ride and Tickets, 570-340-5204
Contact: Media Contact: Bill Nalevanko, 570-241-8258
Steamtown National Historic Site will host Railfest 2016 at the park on Saturday and Sunday, September 3 and 4 of Labor Day weekend. The National Park Service site works with numerous partners to present this annual end-of-summer event, which is a celebration of railroading that features visiting railroad equipment displays, special shop demonstrations and, of course, train rides on both days of the event.
The park will be open from 9:00 a.m. – 6:00 p.m. for each day of the event. On Saturday, September 3, Railfest 2016 activities will get underway at 10:00 a.m. when Park Superintendent Debbie Conway will present a special Opening Ceremony at the Turntable Plaza.
Planned exhibitors (tentative) include:
- Delaware-Lackawanna Railroad
- DL&W Railroad-painted F3 diesel locomotives (Anthracite and Tri-State Railroad Historical Societies)
- Hi-Rail and Trackmobile displays
- Mid Atlantic Motorcars Assoc. "Speeders and Motorcars"
- Mt. Washington Cog Railway Locomotive #1, "Old Peppersass" 150th Anniversary display
- National Museum of Industrial History steam exhibit and steam calliope
- O-gauge and N-gauge Model Train displays
Planned special programs include:
- Caboose Rides
- Lehigh Valley #353 Business Car tours
- Live musical entertainment
- "Scranton Limited" short train rides on both Saturday and Sunday
- Special Machine Shop demonstrations
- Turntable Demonstrations
- Union Pacific #4012 "Big Boy" Cab tours
There will be excursions to Moscow, Pa., on each event day. Each trip will operate with historic diesel locomotives. The excursions will depart the Steamtown Boarding Platform at 12:30 p.m., with a planned return to Scranton at approximately 3:00 p.m. Excursion fares are $24 for adults 16 to 61, $22 for seniors 62 and older, and $17 for children ages 6-15, and include the park's daily Entrance Fee. Children 5 and younger accompanied by an adult require a "no-charge" ticket.
The park will resume regular daily hours, 9:00 a.m. – 5:00 p.m. on Monday, Labor Day. All Railfest activities and programs are included in the park's $7 daily entrance fee for visitors age 16 and older. Fares to ride either the "Scranton Limited" short train rides are $5 per person, all ages 6 and older. All children must be accompanied by an adult.More information about Railfest 2016 is available at www.nps.gov/stea - click on Railfest 2016 (https://www.nps.gov/stea/planyourvisit/railfest.htm).
Other event partners include Lackawanna County's Electric City Trolley Museum, which will offer an expanded schedule of trolley rides along a portion of the former Laurel Line. The Anthracite Heritage Museum is also planning special programs daily at the Scranton Iron Furnace State Park. Remember to bring along your appetite for great Italian food and treats as La Festa Italiana takes place at Courthouse Square in downtown Scranton. The County of Lackawanna Transit System (COLTS) will provide free trolley bus service between Steamtown NHS, the Scranton Iron Furnace State Park and La Festa during the park's operating hours on both days. For more information on the Trolley Museum, phone direct (570) 963-6590; for information about the Scranton Iron Furnace State Park site and programs, phone (570) 963-4804; information on La Festa Italiana is available at www.lafestaitaliana.org.
Located in downtown Scranton, Pa., Steamtown NHS is open daily from 9:00 a.m. – 5:00 p.m. From I-81 follow exit 185 (Central Scranton Expressway); then, follow the brown and white signs to the park entrance at Lackawanna and Cliff Avenues (GPS: N 41.41, W 75.67). General park information is available by phoning (570) 340-5200 during regular business hours, or by visiting the park website anytime at www.nps.gov/stea.
About the National Park Service. More than 20,000 National Park Service employees care for America's 411 national parks and work with communities across the nation to help preserve local history and create close-to-home recreational opportunities. Visit us at www.nps.gov, on Facebook www.facebook.com/nationalparkservice, Twitter www.twitter.com/natlparkservice, and YouTube www.youtube.com/nationalparkservice. Find YOUR park at FindYourPark.com!