Fishing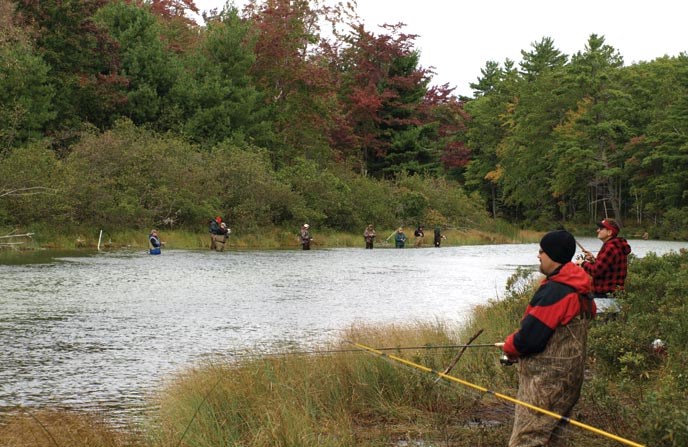 Anglers with a Michigan license can fish for trout, pike, bass, and salmon. Certain fish may be contaminated and should be eaten in limited amounts or not at all. Check the Michigan Fishing Guide for details about fishing regulations in Michigan and the Michigan Fish Advisory for information about fish consumption.
There are several small inland lakes to fish in the Lakeshore. On the southern part of the park, you will find Loon Lake along the Platte River. There is a boat launch just off M-22 for Loon Lake. Otter Lake is near Trail's End road, but the boat launch is made for canoes and will not accomodate trailers. On the northern end of the park, Bass Lake and School Lake offer good fishing. There is a boat launch for School Lake on County Rd. 669.
For some excellent small mouth bass fishing, try Lake Manitou on North Manitou Island. The island has some additional fishing regulations: artificial lure only and 18 inch minimum size.
Ice fishing is popular throughout the Lakeshore during the winter months. The use of a powered ice auger requires a permit, and they are only allowed on Lake Michigan, Loon Lake, School Lake, Bass Lake (Leelanau County) and Tucker Lake. Pick up your free ice auger permit from the visitor center in Empire or from any law enforcement park ranger.


Last updated: December 21, 2017