Prevention
Stop the Spread
We have all heard the famous phrase, "An ounce of prevention is worth a pound of cure". This phrase rings especially true in preventing the introduction and spread of invasive species in our national parks. There are a variety of simple steps a visitor can take to ensure that they are not transporting invasive species into, around, or out of a park. Listed below are some tips to help prevent the spread of invasive species to our national parks.

Don't let it loose! Do no further harm by not releasing your pets into the wild or dumping aquariums or bait buckets into waterways. Unused bait should be discarded into trash cans.

Clean, Drain, Dry. Thoroughly rinse your gear and pressure wash your boats, skis, and other recreation vehicles on site. Plants and aquatic organisms can get into any place water can get into. Use hot water if available. Learn how to clean, drain, and dry.

Don't keep invasive species as pets and don't choose invasive species for your landscaping.

Wash your vehicle, especially if you have been driving on unpaved roads or off road. Plant materials can get stuck in your tires and undercarriage. This includes cars, bikes, and ATV's.

Shake out your tent, camp chairs, sleeping bags, and other camp accessories before leaving the campsite to remove any plant or seed materials.

Brush off or wash your pets; if they have been out romping in the parks. Sticky seeds can hitchhike on their fur.

Clean your shoes or boots by knocking dirt and plant materials out of the treads. Consider carrying a boot brush in your car or pack. Rinse the soles if possible. ( Don't forget to Play, Clean, Go!)

Wear short gaiters to cover your socks and pant bottoms. This will prevent sticky seeds, such as cheat grass, from getting stuck in your socks.

Don't move firewood. Use local firewood. Do not bring in firewood from outside the immediate area. (Check park websites for specific instructions).

Use weed free feed if possible when using pack animals, such as horses, mules, and cattle, prior to and during, you visit. Contact the park you will be visiting to see if they have a list of local vendors of weed seed free feed.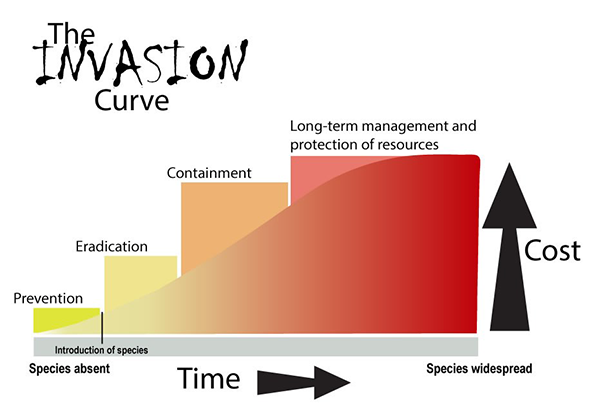 Early Detection and Rapid Response
Early Detection and Rapid Response (EDRR) means locating invasive species just as they are beginning to invade a particular area and quickly treating the new infestation. This concept is fundamental to effective invasive species management.
Early identification and treatment makes successful control more likely and can save critical funding and resources for the park. EDRR relies upon a strong communication network and the education of visitors, neighbors, and employees about potential invaders.
EDRR is illustrated in the invasion curve (left). If an invasive plant or animal species is not detected and recoved early, expensive and long-term management may be unavoidable.
Documents Open for Public Review
Other Plans and Projects
A list of park projects without documents open for review may be found at https://parkplanning.nps.gov/.
Last updated: April 12, 2021