How Regulations Work

Why Regulations?
Fishing regulations help conserve fish for the enjoyment of future park visitors and help to maintain healthy aquatic ecosystems. By following the fishing regulations in national parks, you can be an important steward of fish conservation.
Fishing regulations tell you what you can fish for and in some cases how you can fish (like catch and release) in order to conserve fish populations in national parks.
Fishing regulations in most parks consist of NPS general fishing regulations and the fishing regulations of the state in which the park is located. However, each park may adapt these regulations to address park specific management concerns. Therefore, fishing regulations vary from park to park depending on the state where the park is located and the different species and stressors parks are managing.

In order to know where and how to legally fish in national parks, you must look at NPS federal regulations, state regulations, AND specific park regulations.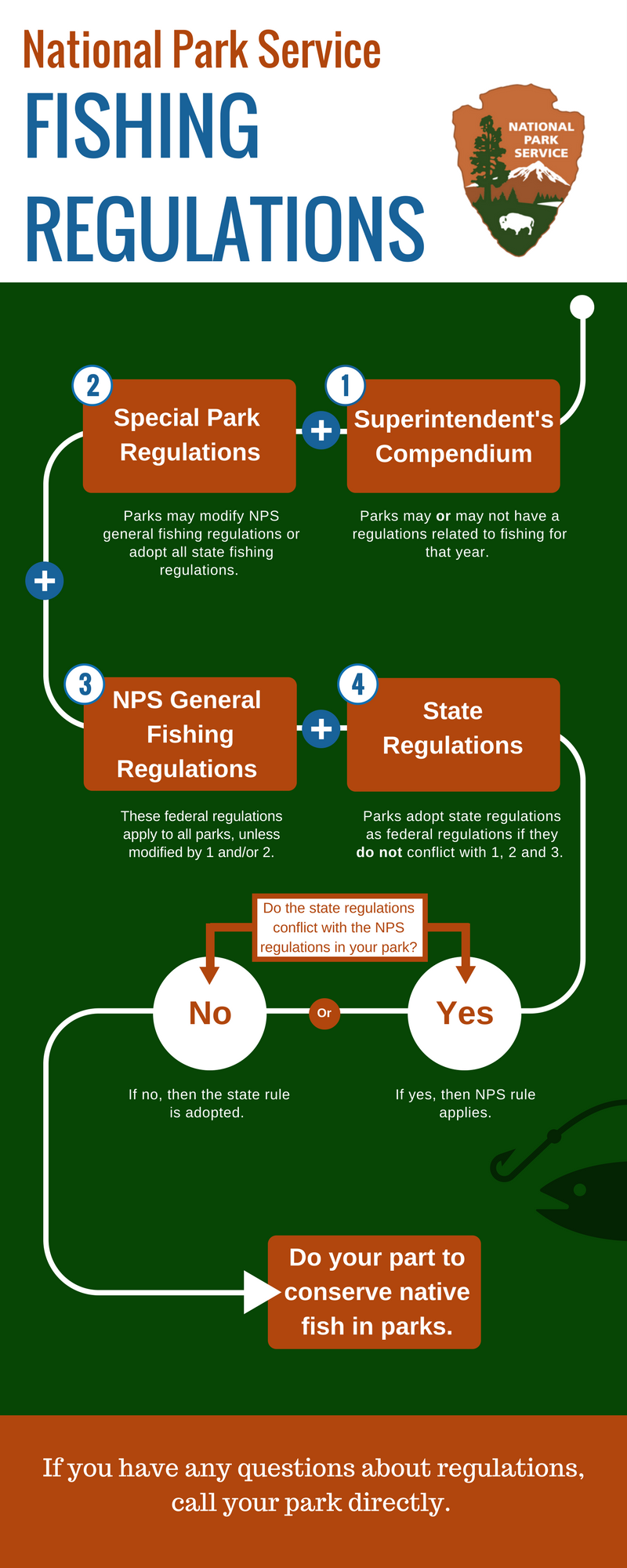 Fishing in your national parks is managed and regulated by the National Park Service and State and Federal partners to conserve fish while providing fishing opportunities.
NPS General Fishing Regulations
Fishing in national parks is conducted in accordance with the NPS general fishing regulations, published in the Code of Federal Regulations at 36 CFR §2.3.
State Regulations
The fishing regulations of the state where the park is located, are adopted as federal regulations under 36 CFR §2.3 (a), as long as they do not conflict with the NPS general regulations, special park regulations, or the Superintendent's Compendium.
Special Park Regulations
When NPS general fishing regulations and state regulations are not enough to meet park-specific fish management goals, parks may have special park regulations. Special Park Regulations can be found at 36 CFR §13. (Alaska region only) and 36 CFR §7 (all other NPS units).
Superintendent's Compendium
Sometimes it is necessary for parks to publish fishing regulations in their Superintendent's Compendium; the yearly compilation of designations, closures, permit requirements, and other restrictions made by the Superintendent of a park. There may or may not be a regulation about fishing, but check with the park to see this years Compendium.


Before you go fishing, be sure to check the superintendent's compendium, special park regulations, NPS service-wide regulations, then decide which state rules apply in your park. Use this map to find the different regulations that may apply in your park.
Last updated: March 2, 2022