Viewing & Photographing Wildlife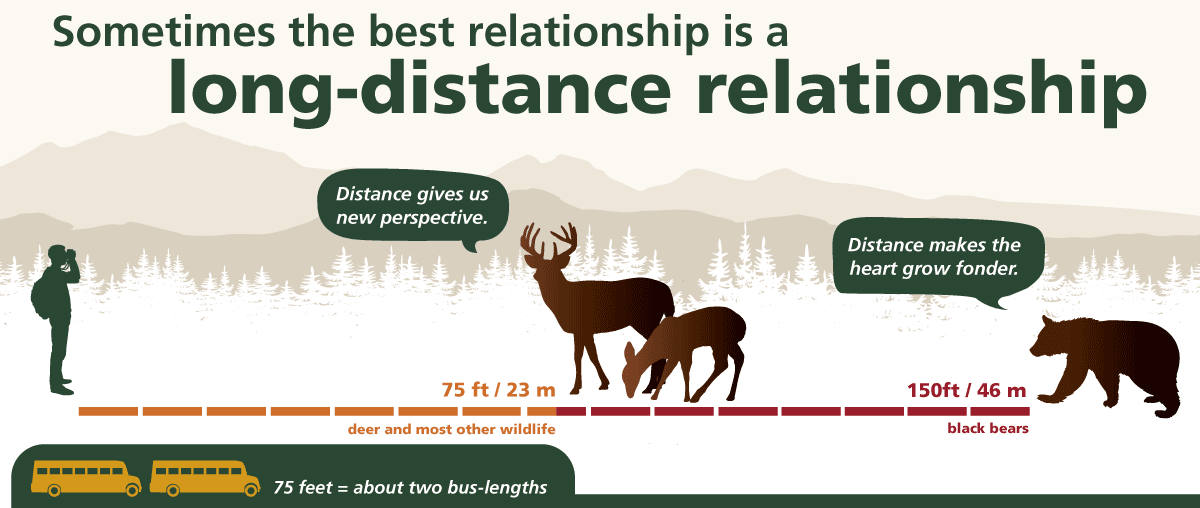 It can be hard to believe that a safe distance is as much about the animal's welfare as it is about yours, but it's true. Getting too close, feeding, and touching are all things that can put you and your furry, feathered, or scaled counterpart in grave danger. While Shenandoah National Park is a conscientious partner for visitors, it also remains continuously committed to the protection and preservation of nature and wildlife. The good news: it's easy to keep a safe distance from wildlife while still being able to get a great view of them or capture that perfect shot!
Viewing Wildlife
Stay at least 75 feet (23 meters), or about two bus-lengths away from all wildlife. Keep at least 150 feet (46 meters), or about four bus-lengths away from black bears. If wildlife approaches you, it's your responsibility to back away and maintain that safe distance.
Use binoculars or a spotting scope for a safe, close-up view.
Calling, whistling or making noises of any kind to attract wildlife is illegal. Do not do anything that changes the natural behavior of wildlife.
Pull safely and completely off the road, making sure that all four wheels are off the road on a safe shoulder. Use your car as an enclosure for viewing from a distance.
Finding Wildlife
Wildlife is usually more active at dawn or dusk, so time your outings for a better chance of seeing animals out and about.

Look at the edges of the landscape (e.g. where forest trees meet a grassy area).

Stay quiet and still. Noise and quick movements can scare wildlife away.
Photographing Wildlife
Use your camera's zoom or a telephoto lens to get a close-up while still maintining a proper distance from wildlife.
Watch wildlife with your eyes rather than through your viewfinder/screen as you move. It's easy to miss things in your surroundings when you're only focused on what you can see on your screen or viewfinder.
For better photos from a distance, line up the horizon of the landscape along the lower third of your frame and line up the animal(s) to one of the four intersection points.

Last updated: August 3, 2020