Horse Camping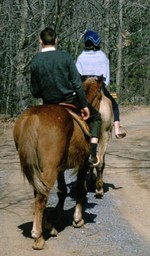 Shenandoah National Park has no facilities for horses to stay overnight. The campgrounds and concessioner are not able to accommodate horses. Horses may not be kept at the lodges or left in trailers overnight. Several commercial facilities near the park will board horses and their riders overnight to facilitate early starts on the trail. Contact the Virginia Horse Council, a listing of Boarding and Training Facilities in VA, or local Chambers of Commerce for nearby horse stable information.
Please contact the park ahead of time to discuss your overnight trip planning. Horses must remain on the trails at all times while traveling and should be led carefully to off-trail campsites. Grazing is not permitted; you must bring your own feed for your horses. We recommend that you use certified clear feed for your animals since oats and hay may bring damaging non-native grass species into the park.
Backcountry camping with horses can damage backcountry resources. Riders are urged to take precautions to reduce impact on vegetation. Although it is permitted in the park, camping with horses is discouraged. If you are looking for camping suggestions in the area, the park has created two overnight horse trip plans which involve camping on adjoining state lands where large campsites already exist that are more amenable to camping with horses.
For all overnight camping in the Shenandoah National Park backcountry, visitors must obtain a free backcountry permit and observe all backcountry camping regulations. Backcountry regulations require all campers to camp at least 20 yards from and preferably out of sight of trails and fire roads. Please lead your horse carefully to your camping area to minimize damage to the vegetation and avoid creating new "trails."
When camped, use the highlining technique to secure your horses to minimize damage to trees and other vegetation. Refer to "Leave No Trace" highlining techniques (online or call 1-800-332-4100). Tie the horse(s) off to a highline away from trees and rocks. Use "belts" such as tow straps around trees to protect the bark. Do not tie off the lead directly to the highline, but use a swivel or cord to keep the lead from knotting from horse movement. Try to highline your horses out of sight of trails and roads. Do not tie horses within 50 yards of streams or springs. Upon leaving the site, please scatter manure and rehabilitate the highline site.
Remember to purchase a topographic map for the area where you plan to ride. These maps also show Skyline Drive, overlooks, mile markers, and county roads to assist you in driving to your destination. If you are considering starting at the boundary in an unfamiliar area, click for boundary access information.
Last updated: March 31, 2012