Birdwatching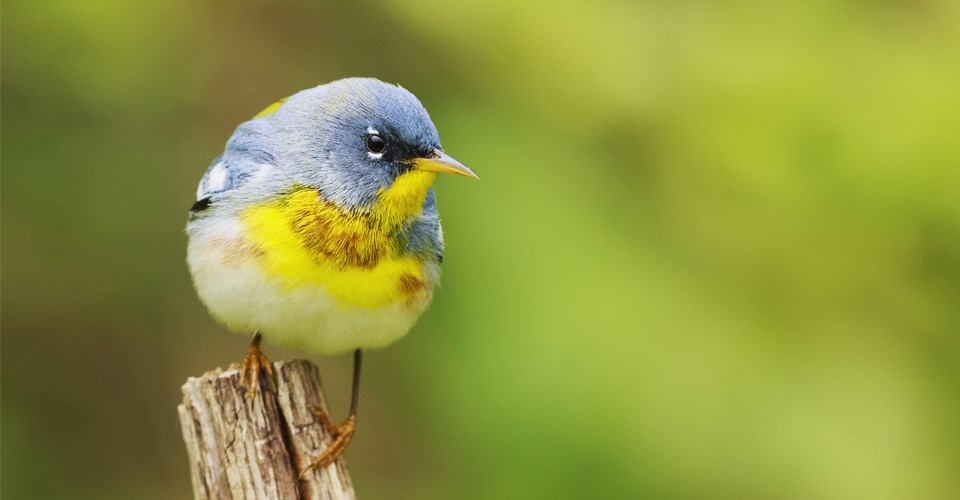 More than 190 species of resident and transient birds can be found in Shenandoah National Park. Approximately half of these species breed in the Park, including eighteen species of warblers. Roughly thirty bird species are year-round residents including tufted titmice, red-tailed hawks, carolina chickadees, wild turkeys, and barred owls.

Due to the Park's location along the crest of the Blue Ridge and the extent of forested habitat, Shenandoah provides essential habitat for neotropical migratory birds, both for nesting and as a travel corridor. Certain areas, such as Big Meadows, support species that can be found nowhere else in the Park, providing ample opportunities to observe our beautiful feathered residents. Birdwatching can be a fun activity that the whole family can enjoy. And for those competitive types: why not see who can spot the most number of different species while you're in Shenandoah? The winner might just have to get treated to a blackberry milkshake!
Where to Find Birds
Part of the fun of birdwatching is the thrill of the "hunt" — you never know when you'll see something! Keep your eyes and ears open while you're out and about in the Park, watching for signs of sudden movement or a bird singing in the treetops. Pay particular attention to food and water sources, as well as perches and ground cover. It also helps to know what habitat different species of birds prefer. Some species prefer open spaces where they can easily spot prey, while others prefer the safety of dense underbrush.

While birds can be seen all throughout the Park, we have also compiled a list of recommended hikes for birdwatchers. These hikes go through habitats that support a rich biodiversity of birds, especially during migration windows. These trails are also recognized by the Virginia Department of Wildlife Resources (DWR) as a part of the Virginia Bird and Wildlife Trail System, which highlights the best places to see birds and wildlife in the Commonwealth.
Equipment You'll Need
You don't need any equipment to get started birdwatching, but a few extra items can be helpful in enhance your enjoyment. A good pair of binoculars, or a spotting scope can help you to identify and observe birds without disturbing their natural activities. You may also want to invest in a bird guide to help you identify the different species that you see (these can be purchased at our Park bookstores). It may also be helpful to wear dark, neutral colored clothing.
Last updated: January 27, 2021