South District Fire Restrictions
Date:
November 16, 2016
Contact:
Sally Hurlbert
, (540) 999-3500 ext. 3300
Luray, Virginia:  Shenandoah National Park will begin fire restrictions in the South District of the park on Wednesday, November 16, 2016 at 8:00 a.m. The South District lies between Highway 33 in the north and Highway 64 in the south. Due to exceptionally dry conditions in this area of the park and the potential for extreme fire behavior, the restrictions listed below will be in effect until the south end of the park receives sufficient precipitation.
 
Building, attending, maintaining or using an open fire anywhere within the South District of Shenandoah National Park is prohibited. This ban includes:
o    All wood, charcoal, coal or other solid fuel open air fires.  
o    Fires in grates, grills, rings or pits in campgrounds, picnic areas, shelters and huts. 
o    Please note that wood, charcoal, coal or other solid fuel fires are always prohibited in the backcountry of the entire Shenandoah National Park.
·         
The use of pressurized gas-fuel camp stoves and backpacking stoves will be allowed in Dundo Picnic Grounds and in the backcountry. However, the use of liquid-fuel or wood-fuel portable stoves is prohibited.
·        
Smoking will be permitted only inside vehicles and at established paved or gravel parking areas. Smoking will be prohibited on all trails. 
 
These restrictions will better provide for public safety. The south end of the park and surrounding lands are significantly dry and the potential for wildland fires is high.  
 
Fire restrictions beginning November 16 will remain in effect until conditions improve with significant rain or snow over time, decreasing the fire hazard.  
 
Shenandoah National Park, the Skyline Drive and other facilities and services remain open as scheduled. For more information go to https://www.nps.gov/shen or call the park at (540) 999-3500 ext. 3300.
 

www.nps.gov
 
About the National Park Service. More than 20,000 National Park Service employees care for America's 413 national parks and work with communities across the nation to help preserve local history and create close-to-home recreational opportunities. Visit us at www.nps.gov, on Facebook www.facebook.com/nationalparkservice, Twitter www.twitter.com/natlparkservice, and YouTube www.youtube.com/nationalparkservice.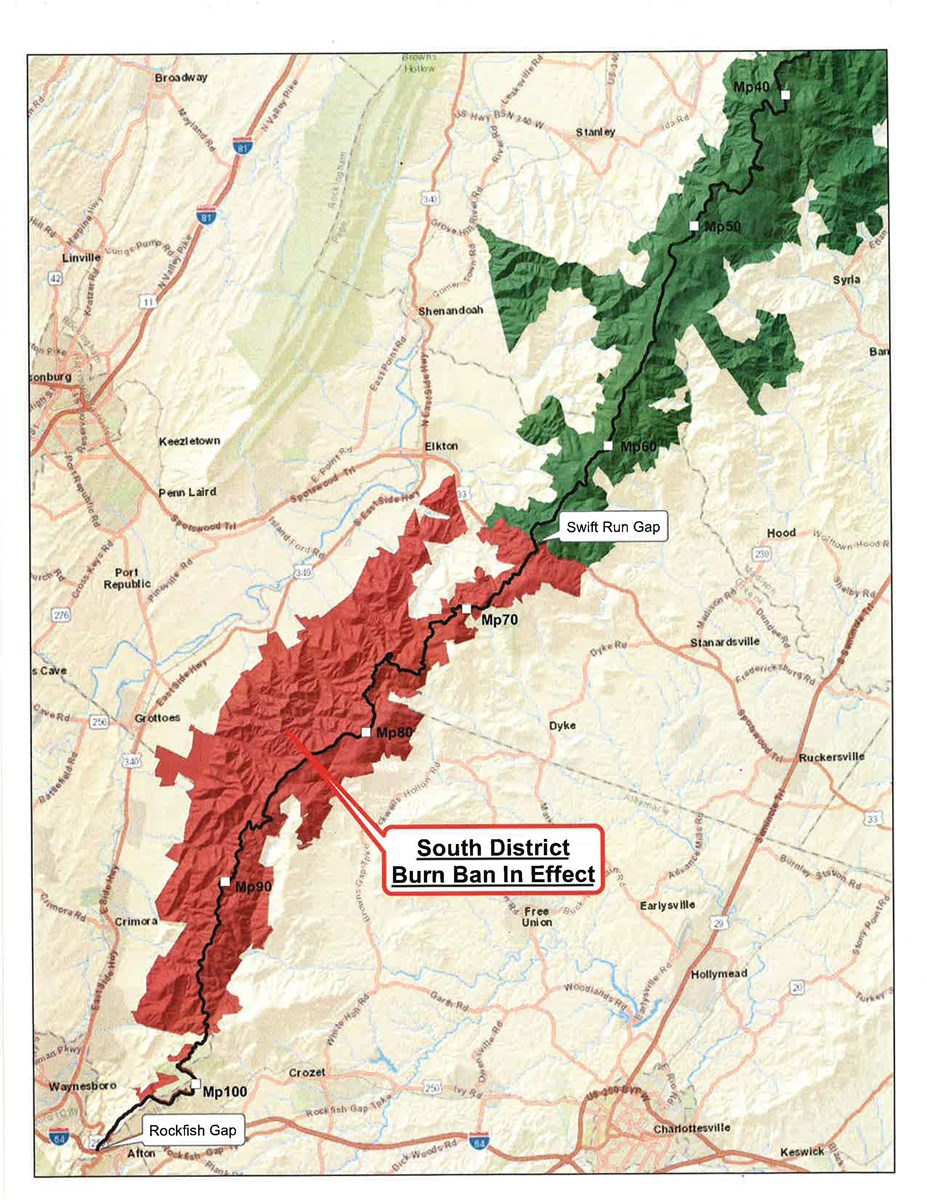 Last updated: November 16, 2016