Youth Wildflower Art Contest
Have wildflowers ever inspired the inner artist in you? Shenandoah National Park's annual Youth Wildflower Art Contest is virtual once again, but this year, we are opening this tradition by to all Virginia students in grades K-12 to participate! This year's young artists can share their creativity by uploading their entries online. See details for uploading in the "How" section below.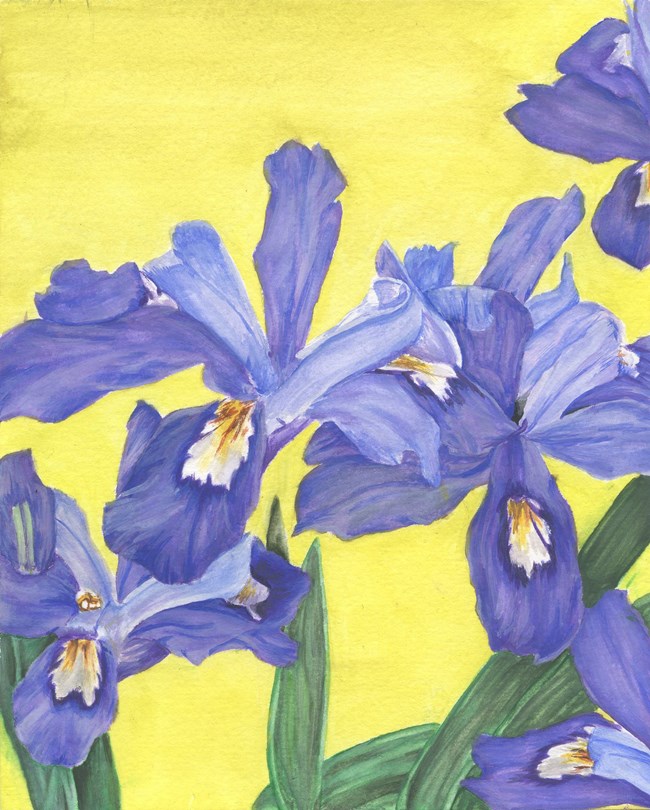 Who
The contest is open to all K-12 students (including home-schooled students) throughout Virginia. One entry per student and total entries may be limited.
What
Each student may submit one piece of artwork. For the subjects of their work, artists must use wildflowers that are native to the Blue Ridge Mountains of Shenandoah National Park. To help you choose, we've put together a list of eligible native wildflower species.
Submissions must be on flat media, and may include acrylic, watercolor, charcoal, pencil, fabric, etc. Artwork should not be matted, mounted, or framed. Photographs, computer-generated, or computer-enhanced artwork will not be accepted. Works will be judged on the basis of original design and artistic composition. Judges will select the top entries from each grade level, and one of the top entries will be selected as the "Best in Show."

If you'd like some art tips before getting started, be sure to check out our virtual wildflower watercolor workshops with artist Betty Gatewood.
When
You can submit art from February 13th through April 7th, 2023. The winners will be notified after the judging process has been completed and invited to participate in a winners' ceremony at the visitor center at Big Meadows during the 2023 Wildflower Weekend on May 6th. Winners are not required to attend the winners ceremony.
Frequently Asked Questions
Email leah_cawthorn@partner.nps.gov or shen_education@nps.gov for more information and questions!
Yes, if you are K-12 in Virginia.
No, this contest is for school-aged children in K-12 throughout Virginia.
You will not be able to submit multiple applications in the same account. Instead, you can incorporate each youth artist response into the original application.  Then, the last name of the artist and title of work should be the name of the image. 
For example, for the questions "What is the wildflower species depicted in the image?" You will need to respond:
Artist - Simmers: Bleeding Heart
Artist #2: Name of Species
Your other option is to create another account with CaFE and enter the other youth artists information. 
No! Students can submit art themselves or teachers can do so for classes. Any student K-12 in Virginia can participate and does not have to be in an art class to do so.
Artists must submit works that are approximately 8.5 by x 11-inches in size using media such as acrylic, crayon, watercolor, fiber, pencil, charcoal, small crochet or knit projects, etc. The piece must lay flat but does not need to be on paper. Photographs of flowers will not be accepted.
Watch the video to see the winning artwork from the 2022 Youth Wildflower Art Contest

Duration:

7 minutes, 47 seconds
Last updated: March 17, 2023