Water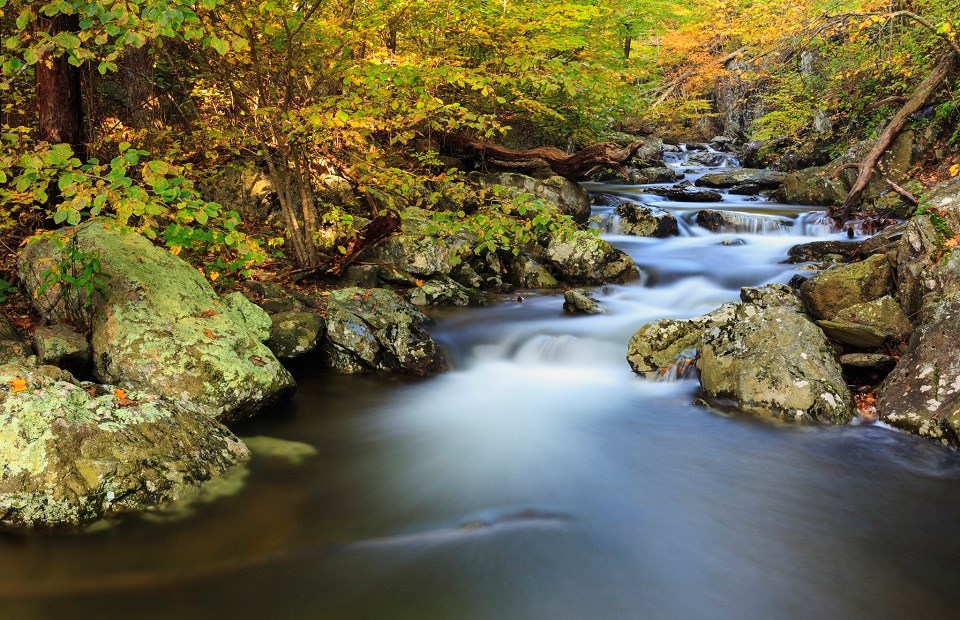 Shenandoah National Park, located along the crest of the Blue Ridge Mountains in Virginia, is home to headwater streams that feed into the Shenandoah River to the west and the Rappahannock and James Rivers flow to the east. These mighty rivers ultimately drain into the Chesapeake Bay.
The park has about 90 perennial streams start in the park. A main feature of these high elevation streams is their high gradient, meaning that the quick drop off the mountain includes pools interspersed with riffles, rapids, cascades and falls. In many places, streams drop over ledges, creating waterfalls up to 93 feet high. The stream floor consists of large gravel, rubble, boulder, and bedrock. Most streams are heavily shaded and cool or even cold in the summer, and they are typically clear with rain-caused turbidity quickly disappearing.
The park's water quality is directly affected by the park's
air quality
. The primary threat to park ecosystems from air pollution is the acidification of streams. Acidification occurs when sulfur and nitric oxides produced primarily from fossil fuel burning and especially from coal, react in the air to form acid compounds, and then deposit on sensitive landscapes. The park's location downwind from industrial facilities, along with its position on ridgetops has led to high levels of acid rain over many decades. The short and long-term stresses of acidification were recognized as far back as the 1970's and led the park, in cooperation with scientists from the University of Virginia's Shenandoah Watershed Study (SWAS), to develop an innovative water quality monitoring program.
Since 1979, the park has been monitoring water quality, and these data have been used to show changes to water quality over time. Monitoring for water quality in the park includes quarterly, weekly, and high-runoff sample collections. Scientists analyze the stream water composition and measure discharge at gauging stations throughout the park. Data are available to the public via
NPSTORET
or available in Excel or Access database format upon request. All data reports are also available on
IRMA
, a database of National Park Service science publications.
Last updated: February 3, 2020