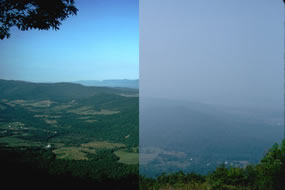 Air quality is fundamentally important to the preservation of natural and cultural resources and values. Shenandoah is located downwind from and near major industrial and urban areas. Monitoring and research projects confirm that human-caused air pollution has impaired the park's air quality, visibility, stream-water chemistry, soils, native fish and vegetation.
To get an "in depth" look at air pollution visit the Shenandoah National Park Air Monitoring and the National Park Service Air Resources web pages.
Also please check our Air Quality Webcam and Real-Time Air Quality & Weather Informaition page.
Air pollution, particularly during the summer season, has significantly degraded the distance, color, contrast and landscape details of park views from Skyline Drive, the Appalachian Trail, and high points in the park. Acid deposition has adversely impacted the acid-sensitive blacknose dace and acid-tolerant Appalachian brook trout at the individual, population and community levels. Despite improvements in air quality under the Clean Air Act in the past few decades. The park's visibility and most sensitive aquatic systems are still degraded relative to estimated natural or pre-industrial background conditions. In addition, park air quality does not meet current ground-level ozone standards set by the U.S. Environmental Protection Agency to protect public health and welfare. Foliar injury caused by ground-level ozone has harmed many of the park's 40 known ozone-sensitive plant species. Scientists are also concerned about potential ground-level effects on forest ecology and ecosystem health to include aquatic systems.
The National Park Service is committed to upholding its affirmative resource stewardship responsibilities under the Clean Air Act through continuation of a strong monitoring and research program, and through resource-efficient regional planning. The Service is also involved in educational efforts, implementation of environmental leadership activities, and providing review and comment on proposed new or modified sources of air pollution.
Related Information
The following websites provide information about air quality:
Air Resource Information from the Environmental Protection Agency
Air Resource Information from the National Park Service
Air Quality Information from the Virginia Department of Environmental Quality
Listing of these websites does not and is not intended to imply endorsement by the National Park Service of commercial services or products associated with the site.