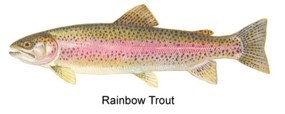 Scientific Name: Oncorhynchus mykiss
Kingdom: Animalia
Phylum: Chordata
Class: Actinopterygii
Order: Salmoniformes
Family: Salmonidae
Subfamily: Salmoninae
Genus: Oncorhynchus
Species: Oncorhynchus mykiss
Introduction
Rainbow trout are members of the Pacific trout and salmon subgroup of the salmon family (Salmonidae) which also includes the redband trout, cutthroat trout and golden trout. Regarded as the most widely successful of the introduced salmonids and the most widely known and recognized of the worlds trout species, rainbow trout rank among the top five most sought game fish in North America. The name Oncorhynchus means "hooked snout" in reference to the distinctly hooked upper or lower jaw of mature males.
The name mykiss is a vernacular from the Russian far east where the species was first described in the late 1700s.
Physical Description
Within the few park streams either inhabited by naturalized rainbow trout or where individual fish have been encountered as the result of stocking programs downstream, the sizes of individual fish typically range from 7 to 12 inches in total length. Occasionally larger individuals are encountered including a 19 inch rainbow captured by an angler in the North ForkThorntonRiver in 1998. As is the case with the other trout species in Virginia, the largest individual rainbow trout are typically encountered within large stream habitats, ponds and reservoirs. The current state record specimen (14 pounds, 7 ounces) was captured in Greer's Trout Pond in southwestern Virginia on June 28, 1993.
Rainbow trout are typically olive-green dorsally with brassy to purple iridescence. Back and sides are marked with dark olive to black spots. Mid-side markings include a wide red, pink or purple band that may either be a continuous band or be broken into a blotched pattern. Lower sides transition from silvery to white with white underside. The dorsal, adipose and caudal fins are light olive to amber marked with dark colored spots. Lower fins are typically pale shades of amber, orange, red, purple or gray and the anal and pelvic fins are often white tipped.
Life Span and Reproduction
The average life span of wild rainbow trout in Virginia waters is very similar to that of brook trout. Maturation begins as early as one year with average survival of three to four years. Maximum known longevity is 11 years but 7 year olds are typically the oldest in most populations.
Unlike brook and brown trout, wild rainbow trout (within their native range) typically spawns during the late winter and spring with peak spawning activity in March and April when water temperature are between 10 and 15°C. Spawning is triggered by increasing day length, water flow and water temperature. Rainbows typically migrate upstream to spawning areas with males arriving first. Redds are typically excavated by females in gravel runs and incubation periods vary with water temperatures but are typically less than those of brook and brown trout due to increased springtime temperatures.