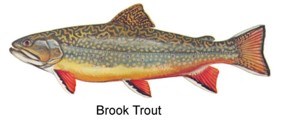 Scientific Name: Salvelinus fontinalis
Kingdom: Animalia
Phylum: Chordata
Class: Actinopterygii
Order: Salmoniformes
Family: Salmonidae
Subfamily: Salmoninae
Genus: Salvelinus
Species: Salvelinus fontinalis
Introduction
Brook trout are members of the char subgroup of the salmon family (Salmonidae) which also includes the Arctic char, bull trout, Dolly Varden and lake trout. Char are distinguished from other trout and salmon species by the absence of teeth in the roof of the mouth, the presence of light colored spots on a dark colored body, their smaller scales, and differences in skeletal structure.
Also known by the vernacular names "native trout" or "natives", "brookie", speckled trout, and brook char, the species name fontinalis means "living in springs". Brook trout have cooler water temperature requirements than the non-native brown and rainbow trouts.
Physical Description
Adult brook trout in typical headwater stream habitats typically range from 6 to 13 inches in total length with exceptional individuals in large stream habitats approaching 16 inches. Brook trout tend to grow larger in larger bodies of water. The largest brook trout from Virginia waters are typically stocked brood fish released into large stream and lake habitats. The current state record specimen (5 pounds, 10 ounces) was captured in a large stream in ShenandoahCounty on October 22, 1987.
As a rule, char are visually distinguishable from other trout having dark base coloration with a pale pattern of spots. In contrast, the true trout have light base coloration with a pattern of dark spots. Breeding male brook trout are medium to dark olive from dorsum to mid-side with a pale yellow-olive or yellow vermiculate pattern. Their sides contain scattered small red spots, haloed with pale blue. Coloration transitions from olive-yellow to orange to orange-red bordered by black along the lower sides. Undersides including lower jaw are milky-white. The dorsal fin is typically pale olive-yellow with black bars. Lower fins including the pectoral, pelvic and anal have milky white margins, paralleled just above by a black streak and are otherwise orange-red. Nonbreeding adults are similar except that the pale pattern has less contrast, red spots are pale or unapparent and the orange or red lower sides are pale to absent.