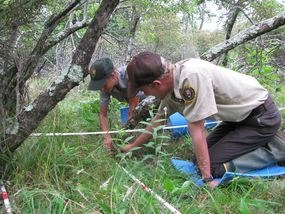 Nonnative species management is undertaken to protect native species, communities and ecosystems. Not all nonnative species are harmful. As one mission of the National Park Service is to protect the natural heritage of the United States. Management action is reserved only for those invasive nonnative species known or suspected to cause unacceptable change in natural systems.
Nonnative species management efforts at Shenandoah focus on three groups of species - plants, insects, and fish.
Plants
Some plant species known or suspected to be harmful are uncommon enough that Park-wide control or even eradication-the elimination of all individuals-may be the goal of management. These include mile-a-minute, wavyleaf basketgrass, Chinese yam, and Norway maple.
Many harmful nonnative plant species are too abundant to attempt eradication or even control on a Park-wide basis. Management of these species is generally attempted only in areas of high ecological value-rare species habitats, for instance. Such species include garlic mustard, Japanese stiltgrass, and tree-of-heaven.
Techniques used to control these plants include cutting, pulling, and herbicide application and often combinations of techniques. Concurrent restoration with native species is also essential in this effort.