Invasive plant Information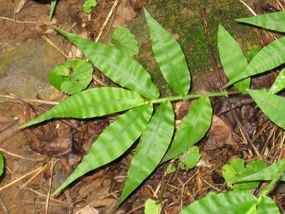 Some species known or suspected to be harmful are uncommon enough that Park-wide control or even eradication-the elimination of all individuals-may be the goal of management. You can help in this effort by watching for and reporting these nonnatives when visiting the Park.
Send us a report! of these species or post your discovery on the EDDMaps website (eddmaps.org). Follow the links below to see where we know about occurrences of these species, or to learn more about them.
| | | |
| --- | --- | --- |
| Akebia quinata (chocolate vine) | | |
| Acer platanoides (Norway maple) | | |
| Arthraxon hispidus (purpleheart grass) | | |
| Broussonetia papyrifera (paper mulberry) | | |
| Clematis terniflora (sweet autumn virgin's bower) | | |
| Dioscorea polystachya (Chinese yam) | | |
| Elaeagnus umbellata (autumn olive) | | |
| Euonymus fortunei (wintercreeper) | | |
| Hedera helix (English ivy) | | |
| Mahonia bealei (leatherleaf mahonia) (also known as Berberis bealei) | | |
| Miscanthus sinensis (Chinese silvergrass) | | |
| Oplismenus hirtellus ssp. undulatifolius (wavyleaf basketgrass) | | |
| Pueraria montana (kudzu) | | |
| Rhodotypos scandens (jetbead) | | |
| Viburnum dilatatum (linden arrowwood) | | |
| Viburnum sieboldii (Siebold's arrowwood) | | |
Last updated: March 6, 2019