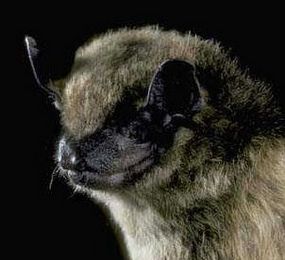 Family Name: Vespertilionidae
Genus: Eptesicus
Species: fuscus
Pronunciation: ep-tess-a-cus fuss-cuss
Common Name: big brown bat
Introduction
The big brown bat is the largest among the bats potentially encountered by visitors to Shenandoah National Park. Watch the night sky at dusk and wait for what at first seems like a bird, except that it makes maneuvers that no bird can. Recognized by their steady flight and large size, big brown bats can be seen at dusk in summer as they commute and forage for insects. Though most people never encounter any bat, Virginians and other North Americans, are most likely to encounter big brown bats in places where the bats night roost or rest between foraging bouts. Like most bats, big brown bats are social animals, found as singles and in small groups or large colonies of typically dozens to hundreds of individuals.
Physical Description
Big brown bats weigh between ½ and ¾ of an ounce and their wingspans range from 13 to 16 inches, with forearms > 1 ½ inches long. Their fur is long, tends to be oily, and ranges from light to dark brown, contrasting with the black of their muzzle, ears, and wing membranes. Their ears are short and blunt, their snout and mouth are broad, and their tail membrane is not furred.