For Kids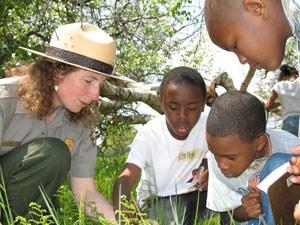 Shenandoah National Park is an amazing place where you can discover talking birds, pole-vaulting insects, and rock-eating plants! How can you find out more about these things? The best way is to get out and explore!
During the spring, summer, and fall there are many ranger-led programs including guided hikes, informative talks, and evening campfire programs. Check the Ranger Programs Ranger Programs schedule for current program times, locations, and descriptions.
There are more than 500 miles of hiking trails and plenty of wildlife to see in the park. You can also stop by one of the park's visitor centers to watch a park film, stroll through the exhibits, browse in our bookstore, or ask a ranger any questions you may have.
You can even see Shenandoah from your own home! Webcams located in the park let you observe a Peregrine Falcon nest and check the weather at Big Meadows!
The whole family can enjoy the hands-on exploration of the diversity of life within Shenandoah National Park. Together, you can discover the wonders of the Shenandoah and learn how to preserve natural and cultural treasures in your own community.
Junior Ranger
One great way to explore is to use our Junior Ranger Activity Book -- a fun way to learn about the plants, animals, and history of the park. Kids ages 7 to 12 will have lots of fun becoming a
Shenandoah National Park Junior Ranger
.
TRACK Trails Hiking
Is your family looking for a fun new way to explore the Park? Come visit our TRACK Trails at Fox Hollow Trailhead (mile 4.6), Limberlost Trailhead (mile 43 on Skyline Drive) and Blackrock Summit Trailhead (mile 84.4 on Skyline Drive). Find the TRACK Trails activity brochure at the trailheads and use them to discover the Park with new eyes! Learn more about the TRACK Trail program by visiting Kids in Parks.
Every Kid In A Park
Fourth grade students and their families will benefit from free admission to fee-collecting parks, public lands and waters by downloading a paper pass from the "Every Kid in a Park" website.
Interactive Features
Shenandoah National Park offers web-based interactive programs that allow you to experience the Park in a whole new way. Head on over to our interactive features page to learn more!


Last updated: January 8, 2021