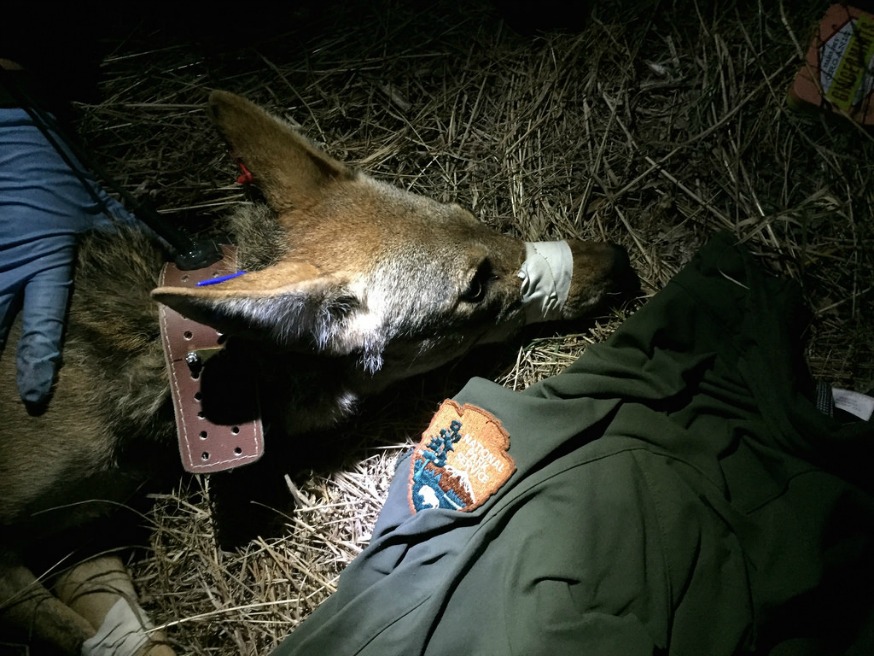 News Release Date:
July 14, 2016
Contact: Zach Behrens, 805-370-2385
THOUSAND OAKS, Calif. - A new coyote has been added to the National Park Service's study of L.A.'s urban coyotes. Coyote 149, or C-149, is an adult female residing near the L.A. River in Northeast L.A.. She is estimated to be three years old and was lactating, meaning she recently reared pups.
C-149 was outfitted with a GPS collar in early June and is the sixth coyote to be tracked by National Park Service researchers since the L.A. Urban Coyote Project launched a little over one year ago, in May 2015. In that time, biologist Justin Brown says one big takeaway is that coyotes are more widespread in the city's dense core than previously thought.
"They are not just residing in large open space areas like Griffith or Elysian parks and occasionally passing through neighborhoods," explained Brown. "They are actually making their home in neighborhoods on small pieces of open space or undeveloped land. That's very significant."
The first two coyotes studied in the project proved just that. C-144, an alpha female, lived with her pack and had pups in the Westlake neighborhood, adjacent to downtown, and traveled as far west as Hancock Park. C-145 currently resides in Silver Lake and recently fathered pups. He and the mother
established a den in a resident's backyard
. Both of the collars on the coyotes ran out of batteries prematurely, but sightings reported by residents and partner groups have let Brown keep tabs on them.
C-146 was a juvenile female who entered the study
early last fall
when she was captured along the L.A. River in Northeast L.A. She traveled the river as far as downtown and then westward,
ultimately dying in MacArthur Park
. The cause of death was listed as drowning in the park's lake, but anticoagulant rodenticide, or rat poison, was also found in her body.
C-147, an adult female with only one eye, is using suburban and natural areas between Calabasas and Thousand Oaks. She is one of a few animals that NPS has documented crossing the 101 Freeway, which she did near the site of the proposed wildlife crossing at Liberty Canyon. Her data will be used to compare to the more urban coyotes.
C-148 is a male residing with a pack in the western San Fernando Valley. Not as urban as the coyotes closer to downtown L.A., his locations are primarily in open and agricultural areas. He is one of three adult coyotes in the pack and is believed to be the alpha male. Two offspring from this pack recently died from parvovirus, which affects the intestinal system of canines.
The L.A. Urban Coyote Project seeks to better understand how coyotes live in one of the most densely developed cities in the nation. Project components include tracking coyotes like C-149 and
analyzing scat collected by volunteer citizen scientists
. Researchers hope results of the study can be used to assist residents and policymakers in making informed decisions about coexisting with coyotes and other wildlife.
Coyotes are medium-sized canids that inhabit most of North America. They are in the same taxonomic family as domestic dogs, foxes, and wolves. Coyotes in Southern California are often the subject of negative media attention, but serious coyote conflicts with humans are rare. In order to reduce the likelihood of a negative interaction with a coyote, residents should be careful not to feed wildlife, either intentionally or unintentionally. Learn more about co-existing with coyotes at
www.wildlife.ca.gov/Keep-Me-Wild/Coyote
and
https://www.nps.gov/samo/learn/management/support-coyotes.htm
.
Since 1996, the National Park Service has been studying carnivores in and around the Santa Monica Mountains to determine how they survive in an increasingly fragmented and urbanized environment. During the course of the study, biologists have studied more than 340 bobcats, 145 coyotes, and 50 mountain lions.
Santa Monica Mountains National Recreation Area (SMMNRA) is the largest urban national park in the country, encompassing more than 150,000 acres of mountains and coastline in Ventura and Los Angeles counties. A unit of the National Park Service, it comprises a seamless network of local, state and federal parks interwoven with private lands and communities. As one of only five Mediterranean ecosystems in the world, SMMNRA preserves the rich biological diversity of more than 450 animal species and 26 distinct plant communities. For more information, visit www.nps.gov/samo.