Scientists Begin Tracking LA River Coyote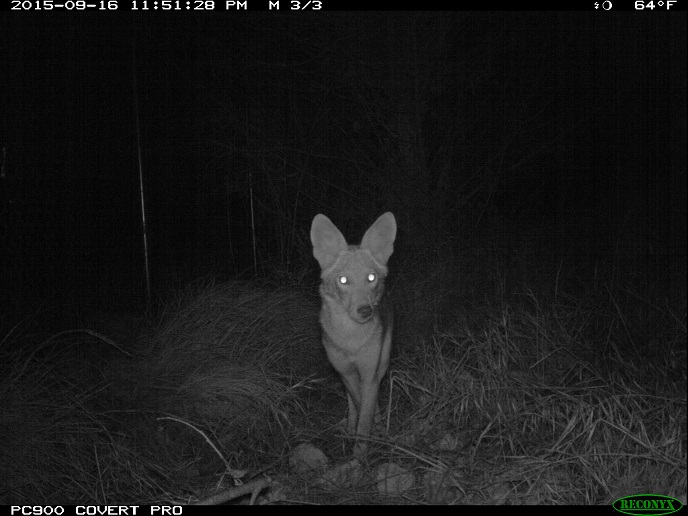 News Release Date:
October 21, 2015
Contact: Kate Kuykendall, 805-370-2343
As part of their recent efforts to better understand how coyotes survive in extremely urbanized areas, National Park Service researchers recently began tracking a coyote in Northeast Los Angeles near the LA River.
The young female, approximately seven to nine months old, is now known as C-146 because she is the 146th coyote tracked as part of the National Park Service study, though only the third in urban core of Los Angeles. She was captured early on the morning of September 23, outfitted with a GPS collar, and then released in the same location.
"We're very interested to learn how this animal is using the Los Angeles River," said Justin Brown, biologist with Santa Monica Mountains National Recreation Area. "So far all of her recorded GPS locations have been confined to a two mile or so stretch on both sides of the river."
C-146's GPS collar is programmed to record an average of eight GPS locations over a 24-hour period.
Brown believes C-146 is from a pack of at least five individuals, three juveniles and two adults, that was captured on camera together in early September. As a juvenile, she will provide insight into how long the juveniles in this area stay with their parents and what routes young animals may take to disperse and find their own territories.
Although National Park Service researchers studied coyotes from 1996 to 2004 in parts of Los Angeles and Ventura counties, they only began studying urban Los Angeles coyotes in May.
As for the other two animals in the pilot project, researchers continue to track the Silver Lake coyote known as C-145, but the battery in C-144's collar recently failed. C-144, who spent most of her time just west of downtown Los Angeles, is believed to have one of the most urban home ranges of any coyote ever studied and had recently made some interesting movements to the west. 
Coyotes are medium-sized canids that inhabit most of North America. Coyotes in Southern California are often the subject of negative media attention, but serious coyote conflicts with humans are rare. In order to reduce the likelihood of a negative interaction with a coyote, residents should be careful not to feed wildlife, either intentionally or unintentionally. 
Santa Monica Mountains National Recreation Area
(SMMNRA) is the largest urban national park in the country, encompassing more than 150,000 acres of mountains and coastline in Ventura and Los Angeles counties. A unit of the National Park Service, it comprises a seamless network of local, state and federal parks interwoven with private lands and communities. As one of only five Mediterranean ecosystems in the world, SMMNRA preserves the rich biological diversity of more than 450 animal species and 26 distinct plant communities. For more information, visit nps.gov/samo. 
### 
Last updated: August 1, 2019