Wanted: Angelenos to Collect Coyote Scat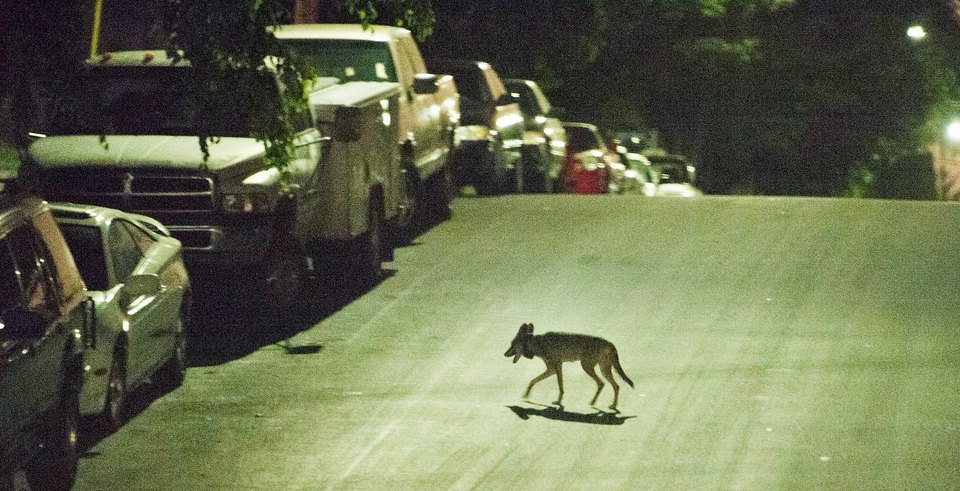 News Release Date:
May 3, 2016
Contact: Zach Behrens, 805-370-2385
They ate mammals like rabbits, pocket gophers, woodrats, and mice. Native and fallen backyard fruit, too, and in very rare cases, a domestic cat. That, at least, was part of the findings in a National Park Service study of coyotes between 1996 and 2004 in the suburban Conejo valley, on the edge of Los Angeles.
National Park Service researchers from Santa Monica Mountains National Recreation Area are now readying to embark on a new study that focuses 30 miles east in L.A.'s urban areas, from Boyle Heights to Beverly Hills. Do these coyotes, who deal with more concrete, traffic, people, and fewer open spaces, persist on a similar or different diet?
In order to answer these questions, researchers are looking to enlist a group of volunteers for the Coyote Scat Team. No experience is required, but these citizen scientists must attend a training on Saturday, June 4 to learn proper scat collection procedures, and will perform walking surveys on a monthly basis starting in June. They can also volunteer for the analysis team to help examine scat contents, a one- to three-day commitment per month. A six-month commitment is required;the project is expected to last a minimum of two years. Trainings and analysis workshops for L.A. teams will be held at the Audubon Center at Debs Park.
"We hear plenty of anecdotal evidence about what coyotes eat, but it's actually never been studied in L.A. before," says biologist Justin Brown, who leads coyote field research for Santa Monica Mountains National Recreation Area. "This study should yield basic ecology information about the urban coyote, which we hope will assist residents and policymakers in making informed decisions on coyote management."
Brown hopes to study scat from about 30 locations and encourages citizen scientists from nearby to volunteer. Volunteers will collect scat from communities such as Beverly Hills, Boyle Heights, East Los Angeles, Echo Park, El Sereno, Hollywood, Lincoln Heights, Los Feliz (especially surrounding Griffith Park), Mount Washington, and Westlake.
To compare diets, researchers will also collect scat throughout Conejo Valley suburbs and adjacent natural habitat. Volunteers will be needed to help analyze scat contents at workshops located at the Santa Monica Mountains Interagency Visitor Center. Information for volunteering on this team is forthcoming.
The National Park Service launched the urban coyote study in May of 2015 in order to better understand how coyotes are surviving in one of the most intensely developed cities in the nation. Scientists at Santa Monica Mountains National Recreation Area have been studying carnivores in and around the Santa Monica Mountains since 1996. 
Santa Monica Mountains National Recreation Area (SMMNRA) is the largest urban national park in the country, encompassing more than 150,000 acres of mountains and coastline in Ventura and Los Angeles counties. A unit of the National Park Service, it comprises a seamless network of local, state and federal parks interwoven with private lands and communities. As one of only five Mediterranean ecosystems in the world, SMMNRA preserves the rich biological diversity of more than 450 animal species and 26 distinct plant communities. For more information, visit www.nps.gov/samo.
Last updated: August 1, 2019