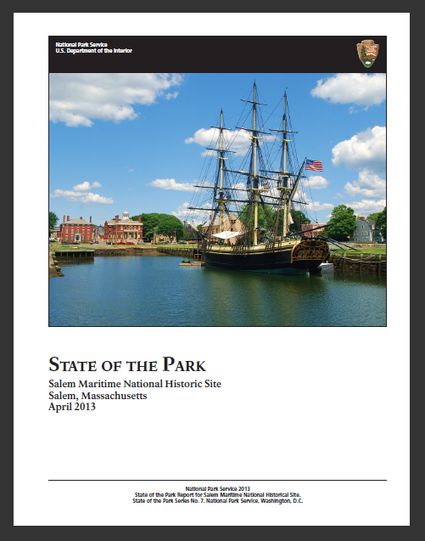 News Release Date:
April 23, 2013
Contact: Jonathan Parker, 978-210-4245
New Report Summarizes Status of Natural, Historic and Cultural Resources
Salem, Massachusetts - Scientists, technicians and Salem Maritime National Historic Site managers have taken a long look at natural, cultural and historic resources in their care and summarized their findings in a first-of-its kind "State of the Park" report. [Download PDF]

"The report gives us a good overview of the condition of the priority resources at the park," said Superintendent Michael Quijano-West . "It lets us see the entire park at a moment in time. It's important because this is a complex park and our stewardship responsibilities are diverse and challenging. For example, we offer educational programs, maintain Friendship of Salem, monitor rare species, preserve historic buildings, and oversee visitor safety. We will use this information to set park priorities for improvement and report on our progress to the American people."
Salem Maritime's "State of the Park" report offers a "snapshot" of the status and trends in the condition of the park's most important resources and values. It summarizes and communicates complex scientific, scholarly, and park operations information, highlights the stewardship efforts of park staff to maintain or improve the condition of park resources, and identifies the key issues and challenges the park faces. The report is available online at www.nps.gov/stateoftheparks/.
Salem Maritime National Historic Site is one of seven national parks presenting state-of-the-park reports this month. The other state-of-the-park parks: Big Hole National Battlefield (Mont.), Cabrillo National Monument (Calif.), Klondike Gold Rush National Historical Park (Alaska), Mississippi National River and Recreation Area (Minn.), Organ Pipe Cactus National Monument (Ariz.), and Saugus Iron Works National Historical Site (Boston.) The reports are online at www.nps.gov/stateoftheparks/and on each park's website.
More "State of the Park" reports are underway and will be available upon completion. The report series is part of "Park Pulse," an action goal in A Call to Action: Preparing for a Second Century of Stewardship and Engagement, the National Park Service priorities for its second century. By the National Park Service Centennial in 2016, up to 50 parks will complete these in-depth assessments of key resources and values and will communicate their findings to the American people.
For more information about A Call to Action, Preparing for a Second Century ofStewardship and Engagement, visit www.nps.gov/calltoaction.