Alerts & Conditions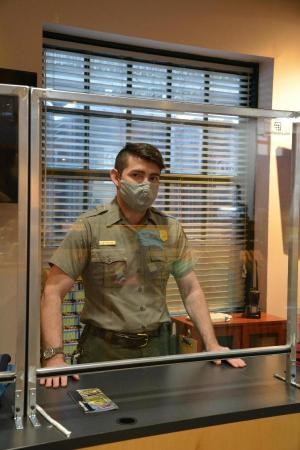 Self-guided activities can be found in Virtual Programs and via the NPS Mobile App. The Visitor Center has film screenings hosted by the National Park Service and Essex National Heritage Area. View our calendar for information on the park film and visit Essex National Heritage Area to learn more about their film screening times and associated costs.
OPEN
Derby Wharf and park grounds around historic homes
Salem Armory Regional Visitor Center: 10am–4pm, Wednesday–Sunday (occupancy limit in place)
Friendship of Salem: 11am–3pm (Nov. 6, 13, 20)
Waite and Peirce Park Store: 10am–4pm, Wednesday–Sunday
Restrooms are available at Central Wharf every day from 9am–4pm and at the Salem Armory Visitor Center
CLOSED
Custom House
Derby House
Narbonne House
Public Stores
Scale House
Tips for Visiting Safely and Protecting the Park:
To promote our staff and visitors' safety, masks are required in all NPS buildings regardless of vaccination status.
Masks must be worn in outdoors spaces where physical distancing cannot be maintained, including onboard the Friendship of Salem.
For the health and safety of all, please Recreate Responsibly.
Keep at least 6 feet of distance from other people and only take part in non-contact recreational activities.
If you are not yet fully vaccinated, masks are required outdoors when social distancing cannot be maintained.
If you are traveling from out of state, please review recent updates to the Massachusetts' COVID-19 travel advisory.
For more information visit Centers for Disease Control.
Keep your pet's leashed and carry out their pet waste.
Pack out your trash.
Last updated: January 5, 2022